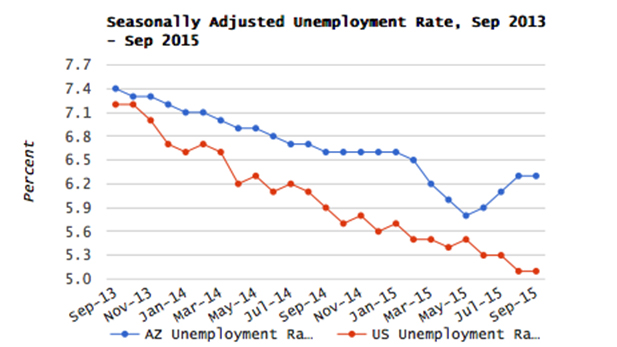 Arizona Office of Employment and Population Statistics
Arizona's unemployment rate stayed at 6.3 percent in September, the fourth month in a row it has not gone down, the state Office of Employment and Population Statistics reported Thursday.
Unemployment in the state had declined steadily for the last two years, hitting 5.8 percent in May. But then, it turned upward despite continued strong growth in the private sector.
In September, however, that changed, with a sluggish 500 private-sector jobs added.
"Almost all the activity was in government, and basically small to no changes in all the other sectors," said Paul Shannon, the state's labor market director.
Government gained 28,300 jobs, almost entirely seasonal with schools re-hiring staff for the new academic year.
The largest gains in the private sector were in tourism, which added 3,100 jobs. Manufacturing lost 1,700 jobs.
In Tucson, 9,200 jobs were added, with 8,300 in local or state education. Tucson's private sector added 700 jobs last month.