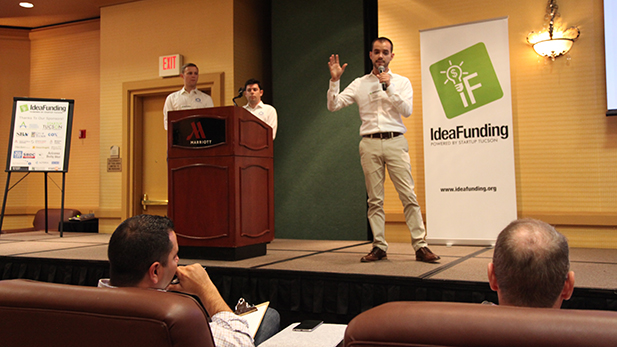 The team from digital real estate marketing firm InHouse pitches their company to the judges at IdeaFunding.

Zac Ziegler
Listen:
Hundreds of people gathered at the Tucson Marriott University Park on the last Thursday of October.
They were there to watch people from 16 startups compete to pitch their business best to potential investors.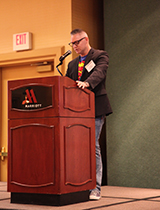 Digital marketing company Fan Faire's John Jacobs pitches his company to the judges at IdeaFunding. (PHOTO: Zac Ziegler)
One pitch came from Fan Faire, a digital marketing company looking to connect comic conventions with their clientele.
Their pitch promised a large built-in user base to investors.
"There are now major comic conventions in most major cities in the U.S. and around the world, and these events draw hundreds or thousands of attendees in a weekend."
Another came from the founders of InHouse, a company that would help realtors manage their online marketing tools.
"Our goal is to save our customers time, money, and to make a look that's consistent to all of their marketing."
This is IdeaFunding, a contest that has taken place for the last 18 years.
The event has been under new management the last two years, and it is now a building block of a larger festival, 10 West.
The point of events like this is to help Tucson to establish a culture of entrepreneurship and become a name in the startup world.
"One of the challenges in the entrepreneurial ecosystem is 'How do we get young people who graduate from the University and get them to stay?'" said 10 West Executive Director Greg Teesdale.
"How do we attract people from other communities, other areas around the country to come to Tucson? These things happen in places like Austin, Denver, Portland. There's no reason we can't do it. We've got all the same components that they have. They're just a little bit ahead of us."
Teesdale is affiliated with Startup Tucson, a group that makes growing Tucson's entrepreneurial ecosystem its goal and took over IdeaFunding two years ago.
"It seemed like building around the basis that IdeaFunding has formed was a really strong anchor to a festival," said Startup Tucson Chairman and CEO Justin Williams.
The Shark Tank-esque IdeaFunding now works as a part of 10 West. It is an entertainment event, as well as a chance to teach entrepreneurs some of the tools they need to build a successful business.
Pair the event with concerts, happy hours and other social events, and you have part of what 10 West is about.
"We would really like this to be a technology and entrepreneurship thing with an entertainment wrapper," said 10 West's Teesdale. "A significant entertainment wrapper because we want people to live, work and play. It's the entire combination."
Live, work, play has become a big part of attracting the young entrepreneur class to an area. The hope is to attract them by showing that they can enjoy all aspects of their life in Tucson.
But once the entertainment wrapper of is off of 10 West, there is a major education and networking component on the inside.
The event has two tracks, both geared to help startup founders: a tech track and a business track.
The business track includes seminars such as "Legal 101 for Startups."
"This state is going to end up having its economy needing to be about more than real estate and tourism," said Raj Gangadean, the volunteer teacher of the 'Legal 101' seminar and a partner at the law firm Perkins Coie. "I want to be a part of making that happen."
"The tech track had things like virtual reality, gaming, internet of things, 3-d printing, rapid prototyping," said Teesdale. "Then at the entrepreneurship it was 'how to present your company,' 'how to fund your company', the things you need to know."
These tracks were chosen to help pull in those with the necessary skills to launch a successful startup. Many have boiled down the three skills simply, calling them 'the hacker, the hipster, and the hustler.'
"The hacker is the person who knows how to write the code," said Startup Tucson's Williams, putting the analogy into terms of the computer world. "The hipster is the person who knows how to make it work for people, is the creative type, makes it look elegant and simple. The hustler is the one who runs around and sells it."
The group's thought, once you have people who are interested in filling those roles all at the same event, taking in seminars, enjoying themselves and talking to each other, it can be the start of assembling a company.
"Bringing a festival together like this pulls them all together in one location," said Williams. "And when you see that you realize there are a lot more of these people than you thought."
That could accomplish one of the biggest issues he sees for establishing an entrepreneurial ecosystem, getting the people who can play a role hanging around each other.
That has definitely been the case for Andrew Slattery, an entrepreneur who recently started venturing out of his home office and into Startup Tucson's events.
"I've been busy as all hell because of the connections I've made here and at this event. I've met a ton of great people," he said. "It's awesome to just have all the information available and to just be like a sponge. Get all that information that you can spend hours trying to find online, but here it's one channel; it's all coming to you."
That is exactly what Startup Tucson's Williams hoped would be the case. Getting the entrepreneurs out and working together so they can create an environment where they can prosper.
"If you really want something to spin out and start working on it's own, then you need this density and action. And that action doesn't generate itself unless it hits a critical tipping point," he said.
Through growth or education, the focus of such events is to bring entrepreneurs together, with the hopes that they can turn Tucson into a place where creative minds feel compelled to set up shop and build their dream.