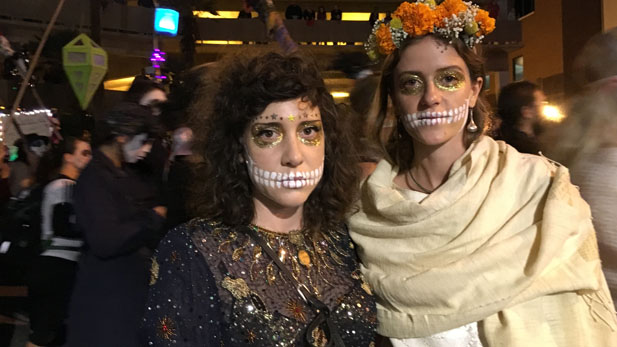 Andrew Brown
It was just after 4 p.m. on Sunday when a vibrant assembly of costumed participants, musicians, acrobats, puppets, floats and banners began taking shape near the corner of Sixth Avenue and Seventh Street, north of the underpass into downtown Tucson, for the 2015 All Souls Procession.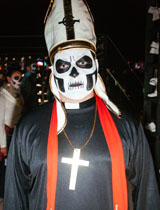 (PHOTO: Andrew Brown)
Organizers predicted this year's event would draw close to 150,000 spectators and participants along the procession's two-mile route.
The event started in 1989 as artist Susan K. Johnson's personal tribute to her late father, with a small group of friends and family in attendance.
Today, the procession is cited in guidebooks and online as one of Tucson's biggest events, and has been called "North America's largest grassroots, community-owned arts expression to honor the dead and the living" by All Souls artistic director Nadia Hagen.
AZPM's Mark McLemore spoke to some of the many people walking in the 2015 All Souls Procession to hear their stories, and to find out what they think the event says about the Tucson community.
Listen:

Further down the procession's two-mile route, AZPM's Andrew Brown talked with people about their reasons for attending, and how they think the annual event has changed as it has grown.
Listen: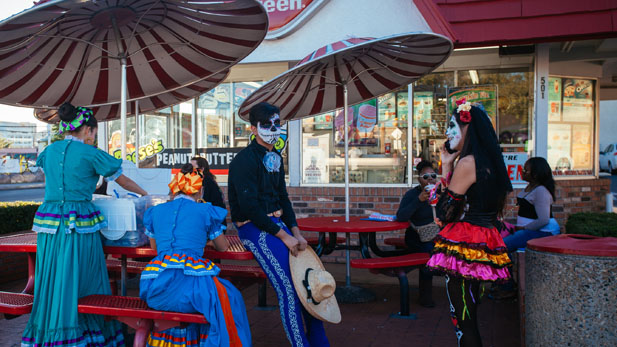 Andrew Brown