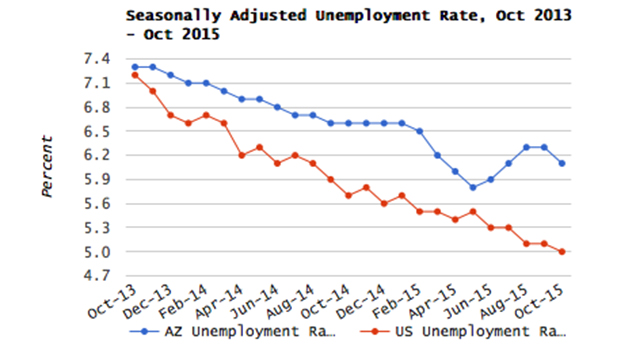 Listen:
Unemployment rates in Tucson and Arizona both dropped 0.2 percentage points in October, according to the Arizona Office of Employment and Population Statistics.
Arizona's rate had gone through a significant drop and uptick so far this year. It dropped 0.8 percentage points by May, but then went up 0.5 percentage points by August.
The strong up and down did not correlate with data gathered by the office looking at the number of jobs added to the state's economy.
"That wasn't really consistent with a lot of the other data we were seeing, with our stronger employment survey, which was showing relatively moderate to strong gains in the overall economy," said Research Administrator Doug Walls.
Walls stressed that month-to-month data can sometimes be subject to such swings, but the reports do give a strong indicator of where the state's economy is long term.
Long-term numbers show the Tucson economy is picking up speed in its recovery.
The local unemployment rate went down for the second straight month. It now sits at 5.5 percent, 0.5 percentage points lower than in October of 2014.
So far this year, Tucson has added about 7,400 jobs.
"Which translates into about a 2 percent employment gain," said Walls. "So it's picking up in Tucson as well as around the state. I think we are seeing that slow and moderate growth throughout the entire economy."
The sectors of Education and Health Services and Professional and Business Services have been strong for both Tucson and Arizona, making up more than a third of all net job gains in both places.