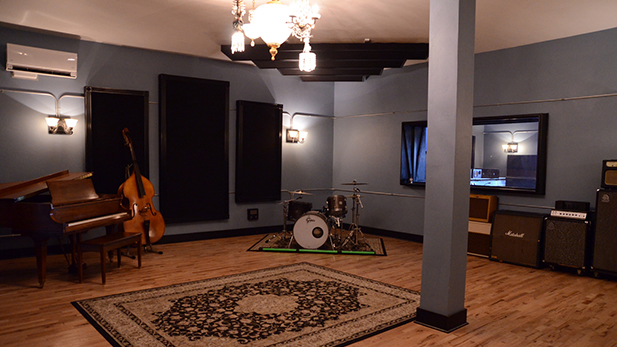 Paul Holze
LISTEN:
Long before new bars and restaurants began attracting crowds back to Congress Street, music was alive and well in downtown Tucson. Steven Tracy's Saint Cecilia Studios was born out of that long legacy.

Early days
The native Tucsonan got interested in music as a teenager. "I made a slew of terrible decisions in high school and dropped out," Tracy said. "And I think my dad, in an effort to give me something constructive to do, bought me a guitar."
Tracy's next acquisition was a reel-to-reel tape machine.
"For me playing and writing and recording, there wasn't a separation with those things," he said.
Music eventually led Tracy to Seattle where he worked in recording studios and played with a band called The Myriad. "We started making records and hit the road and started playing a couple hundred shows a year," he said. "That was my job for eight years."
Returning home
Tracy continued to play, write and record music after The Myriad broke up. While visiting his parents in Tucson about three years ago, he felt the pull of home.
"I came down to Congress, which had been a ghost town with the exception of Hotel Congres or the Rialto or the Grill. I remember coming down here and things had just sort of started to populate, these different coffee shops and restaurants. And I sort of thought this is turning into something and it'd be fun to participate in that conversation of what downtown Tucson is going to evolve into."
A few months later he packed a U-Haul and drove back to Arizona.
Saint Cecilia
After 15 years of working in recording studios, Tracy decided it was time to open his own. He bought space in the building next to the Chicago Store on Congress Street and gutted the building.
"This was an opportunity to build something from the ground up," he said.
After the new walls were erected and the paint had dried, the studio was filled with Fenders and Gibsons, snare drums and percussions, Nords and a pump organ - and, of course, top-of-the-line recording equipment.
And to make his Saint Cecilia less 'clinical' than studios tend to be, Tracy scoured antique shops in Bisbee for Persian rugs and chandeliers.
"The intention was to create a space that was inspiring, that you could hole up in for a month and do stuff you wouldn't be able to do in a different kind of space," he said.
In the year Saint Cecilia Studios has been open, numerous bands from across the country and world have come to Tucson to record with Tracy.
"Sometimes I'm just a guy pushing buttons, but 85 percent of the time I'm producing with the band. Offering feedback, writing with them," he said.
Although it's a difficult time to work in the music industry, he wouldn't want to be doing anything else.
"This is it," he said. "There's not really a Plan B."