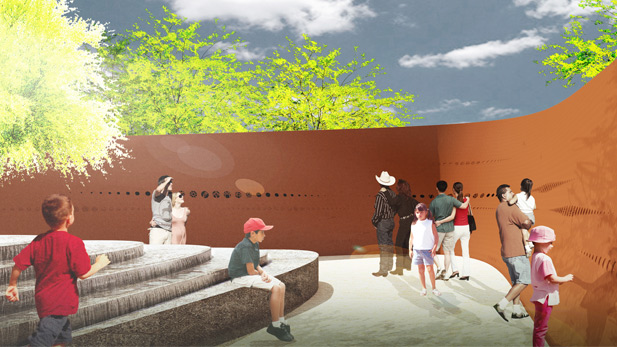 A rendering of the January 8th Memorial.

Tucson's January 8th Memorial Foundation
Listen:
The final design for Tucson's January 8th Memorial was unveiled Friday morning, more than five years after the shooting.
The monument will be a wall that pays tribute to the victims, survivors and first responders of the 2011 shooting at a constituent event held by then Rep. Gabrielle Giffords that claimed six lives and injured 13 others, including the congresswoman.
"It's needed because not only do we want to remember what we lost and the people who were affected, this whole community was affected, but also to really celebrate how the community came together, how we took such a tragedy and lifted each other up during that time," said Crystal Kasnoff, executive director of the January 8th Foundation.
The monument will provide a permanent space for Tucsonans to continue healing Kasnoff said.
The monument will also have a memorial garden and reflecting pool.
All of this will be constructed as the centerpiece for a plan to revitalize downtown's El Presidio Park.
"One of the main project goals is to transform the park and create a place that is vibrant, full of life, in the heart of Tucson," designer Marc Salette said.
The next step of the project is to garner bipartisan support from local lawmakers and to continue fundraising the estimated $4 million dollars needed to build the monument Kasnoff said. Thus far, the foundation has raised $1 million dollars from a private donation.
A timeline for the completion of the project is yet to be determined.