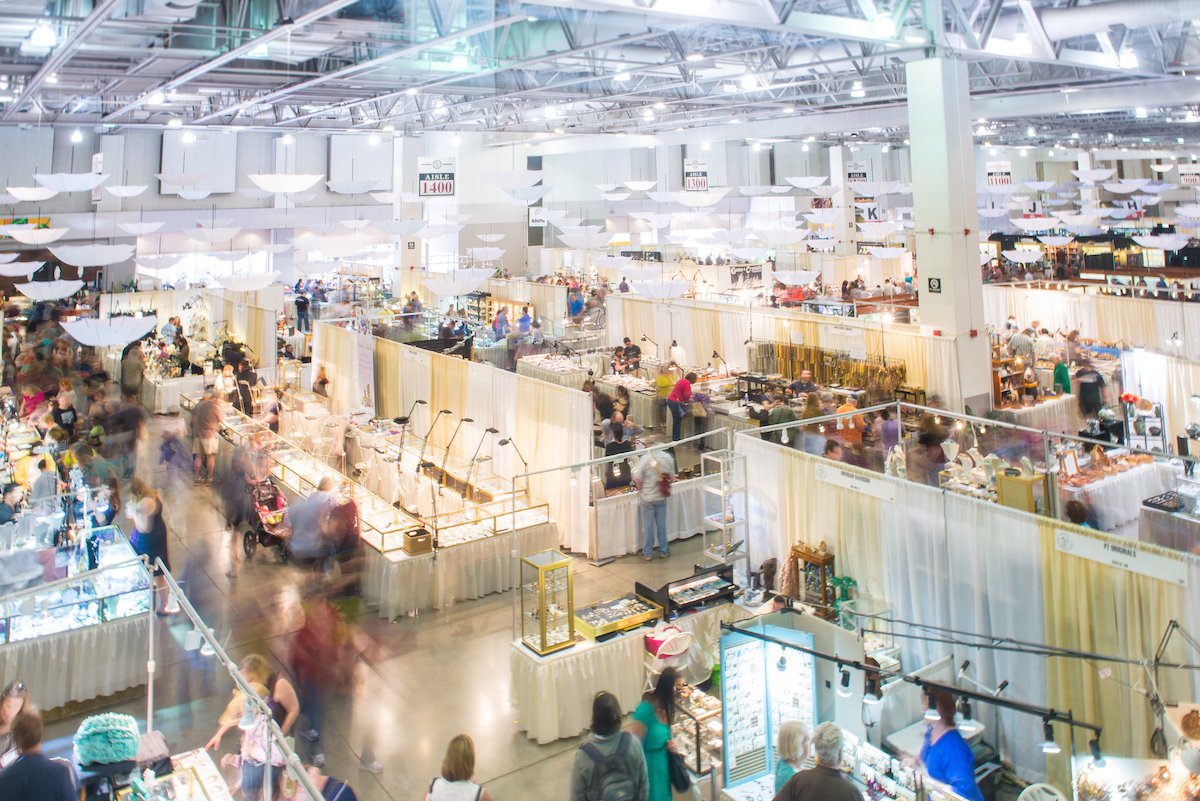 An overview shot of the Tucson Gem and Mineral Show held downtown at the Tucson Convention Center by the Tucson Gem and Mineral Society as part of the two week-long Gem, Mineral and Fossil Showcase.

Tucson Gem and Mineral Society
Listen:
If you've been searching for the perfect strand of turquoise beads to make a necklace or a cool fossil to decorate your bookshelf, the nation's largest gem and mineral showcase might have what you're looking for.
The Tucson Gem, Mineral and Fossil Showcase returns for the next two weeks, from Jan. 30 to Feb. 14, with 45 venues all across town.
There's something for everyone, said Dan Gibson, director of communications for Visit Tucson.
"When you think of a gem show, you think of diamonds, or rubies, or you know all of these various things, but it really runs the gamut," Gibson said. "There's shows at the Sonoran glass school, or there's fossils, there's actual dinosaur bones, there's meteorites, there's prepared jewelry, there's gems you can buy to make into jewelry."
He estimates 50,000 people will visit the showcase this year to experience the beauty the Earth has to offer.
"It's just this really big rush of color, and brightness, and sparkling," Gibson said. "It's easy to get distracted; you kind of keep turning your head one way or another and seeing something else more astoundingly beautiful."
The showcase had a $120 million impact on the economy last year, in addition to stimulating the tourism industry, Gibson said.
The main attraction will be the Tucson Gem and Mineral Society's show downtown at the convention center from Feb. 11 through the 14.
This year's theme will be "Shades of Blue, Minerals of the World," said Tucson Gem and Mineral Society Show Chairwoman Gloria Quigg.
"That means that if any kind of mineral or gemstone that comes in this color blue, from the palest aquamarines to the deepest lazulites, you'll find it here," she said.
Visitors can expect to see a fossilized juvenile Tyrannosaurus rex skull and the Logan Sapphire, one of the world's largest faceted blue sapphires on loan from the Smithsonian National Museum of Natural History, in addition to the chance to shop a large collection of gems and minerals.