Almost 80 percent of the people who went through a career re-training program in the past five years still have jobs in the Tucson metro area, and they weathered the recession better than others, a study shows.
JobPath trains adults who have a GED or high school diploma for careers in high-demand fields, such as medical billing and dental assisting.
David Lee is a radiologic technologist at Radiology Limited, which means he operates the X-ray equipment to help a doctor plan a patient's medical care. Before he went through Pima Community College with the help of JobPath, he worked in jobs without much room for advancement.
Now, he loves his job and has the potential for growth in the industry.
"Just here, for an outpatient facility, I have a lot of career opportunities," he said. He can go on to train for CT scans, MRIs and other medical imaging positions.
JobPath helped him get to this next step once he decided what kind of training to pursue.
"They basically helped me live for the two years. They helped pay for books and my classes, they also helped pay for gas, for my car to get me to and from class and my clinical sites as well," Lee said.
That's caused him to enter a cycle of giving back and being a good employee, he says.
"It makes me want to show up, and to work hard, and they helped build that," he said. "They're very much about giving to the community as much as they're getting from the community."
The budget for JobPath comes largely from local government funding. Tucson and Pima County contribute 83 percent of the $731,000 annual budget for the program. The rest comes from donations from individuals and area businesses, and from grants.
A recent report shows Lee's experience after he graduated in 2014 is typical.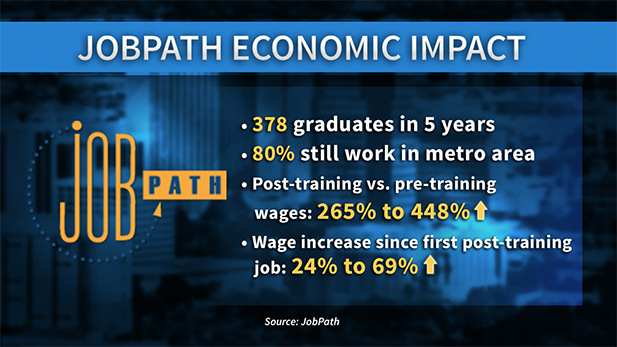 Most of the JobPath graduates in the past five years have more than doubled their income from before the training. Some have more than quadrupled their income, said Sarah Murley, a principal with Applied Economics. She wrote the economic impact study that tracked program graduates.
"We looked at their wages at three points in time, before they started their training program, immediately after in their first job, and then their current wage," Murley said.
JobPath focuses on training people for careers in fields expected to grow by at least 25 percent in the next 10 years. Positions such as dental assistants, medical billing and coding jobs, aircraft technicians all fall into that category.
JobPath applicants must have lived in Pima County for a year and have a GED or high school diploma. They also must be legally able to work in the U.S. and academically able to place into college courses. They complete college assessment courses and choose a field to study. Typically the students get their career skills from Pima Community College courses, and they get career coaching and peer mentoring, not to mention financial support, from JobPath.
Graduates weathered the recession better than people in other industries, Murley said.
"These have not been years of significant job growth in Pima County," she said.
That's what she finds impressive about the 80 percent retention rate, that 300 of 378 graduates in the past five years are still employed here.
"While their graduates certainly felt the impacts of the recession, the types of occupations that they are placing people in, in health care, for example, are occupations that have done better during the recession."