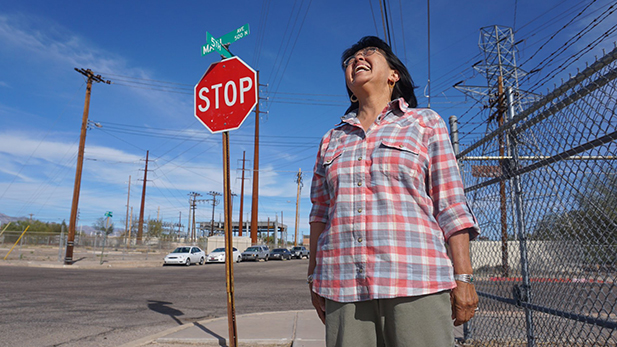 Lucy Lim's father had a grocery store at the corner of 5th Street and Main Avenue.

Sophia Paliza-Carre, AZPM
Listen:
At the corner of 5th Street and Main Avenue, Lucy Lim stood in the wind. She's a petite woman in her 60s, and a long-time Tucsonan. The Union Pacific blasted its horn as it passed her on the nearby train tracks, but Lim is used to the noise.
This corner is where she grew up.
Lucy's dad, Don Lim, owned a grocery store on this corner in the 1960s. Her family is Mexican-Chinese, and they lived behind the store until 1967, when Don Lim had a stroke and couldn't run the business anymore.
"During the lunch hour all the workers would come over. We would do brisk business during that time. They'd come over and have coke and chips, or whatever."
Today, this corner just north of downtown Tucson feels like it's not really at the center of anything, except three dusty parking lots.
In the late 1960s, things were changing in downtown Tucson. The city would claim this corner for eminent domain to reroute Granada Avenue into Main Avenue, including a duplex apartment Lucy's father owned.
"My dad at the time, he tried to tell the neighbors. He says 'we can get together we can fight them.' And they were afraid to fight City Hall. In the end you can't fight City Hall, they're too big. So they took the duplex and then they made the street how it connects there."
Lucy's family story is not unique.
A bit more south, the construction of the Tucson Convention Center would demolish the center of a historic Mexican-American barrio, often called Barrio Libre or La Calle. More than 1,000 residents were displaced.
Barrios Stories is a new play opening this week produced by Borderlands Theatre. It's a play intent on preserving stories from the 1960s of the vanished neighborhoods of downtown Tucson. Influenced by her own experiences during this time of urban change, Lucy signed up to be an extra in the cast.
She used to go antique bottle digging with her mom and sister in the rubbish piles left behind by the bulldozers that cleared the way for the TCC.
"You could see from the old buildings that were there before, they really knocked them all down people had moved out you could see remnants of what they left behind. It was their homes and their lives."
She is part of a group of community members called "la gente," or the people.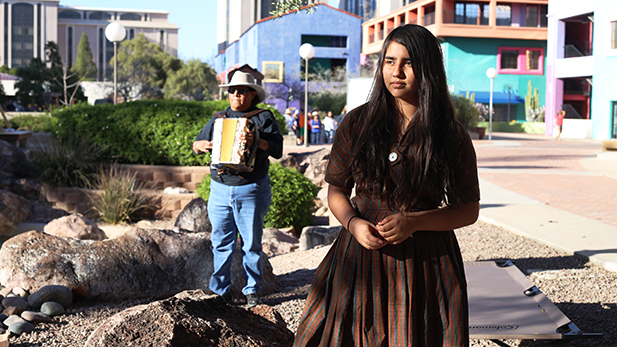 Rosa Garcia.

Courtesy Haldun Morgan
The play takes place outside on the grounds of the Tucson Convention Center. Audience members will be able walk around and observe various "fragments" of what the neighborhood looked and felt like. Project coordinator Milta Ortiz says this is the biggest project Borderlands Theatre has ever taken on, with the process involving more than 250 people.
"Getting the right team of people that are great at what they do and make their part work is the way to go. And we've had so much community support it's really all come together."
For Lucy Lim, participating in Barrio Stories feels like an opportunity to illuminate the past, but also to help stoke a larger conversation about the future.
"It was a community just like here, like Anita. It (the displacement) just spread people out. I think the big question is, how do you find a middle ground where you have progress but yet you don't disrupt lives?"
Barro Stories opens Thursday, March 4 and Friday at 10 am and runs through Saturday and Sunday at 11 am. Because it's site-specific, it's a one-time performance. Visit barriostories.org for more info.


Dímelo is brought to you by KUAZ and Finding America, a national initiative produced by AIR, the Association of Independents in Radio, Incorporated. The project is done with financial support from the Corporation for Public Broadcasting, the Wyncote Foundation, the John D and Catherine T MacArthur Foundation, and the National Endowment for the Arts.