Ancient human footprints and agricultural remains unearthed as a road crew prepared for a project on Tucson's northwest side have amazed archaeologists and others who have seen them.
The discovery came during excavation for a new roadway near Sunset Road and Interstate 10. The site will be covered, but county archaeologist Ian Milliken said 3-D technology has allowed creation of images that can be used to preserve the findings.
"We have a small window into a 2,500- to 3,000-year-old agricultural community," Milliken said.
He said the footprints and other evidence reveal a community of four to eight people, including children. The group was growing crops, most likely corn, Milliken said, and the footprints likely were made in springtime when the fields were wet, followed by a flood on the Rillito that left a layer of silt, preserving the footprints.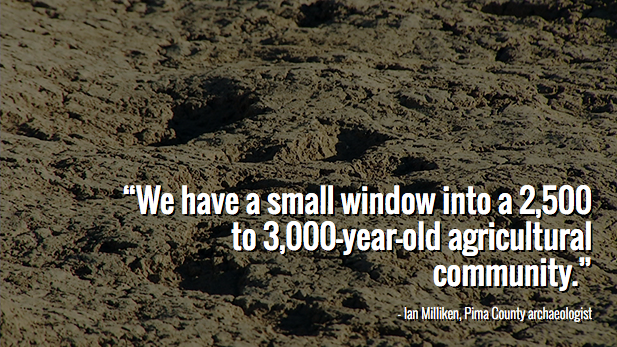 The first footprint was found, in part, with the help of heavy machinery steered by operator Dan Arnit.
"What I can feel with a trowel…Dan Arnit can feel with his backhoe," Millken said.
Arnit, owner of Innovative Excavating Inc., called the unearthing "one of the most exciting things in my life to finally find that."
He said one set of footprints shows an individual walking across the field.
"If that's not a time machine, I don't know what it is."
On the program:
County archaeologist Ian Milliken
Dan Arnit, owner of Innovative Excavating Inc
The journalists roundtable with AZPM's Zac Ziegler, Linda Valdez of the Arizona Republic and Patrick McNamara of the Arizona Daily Star.