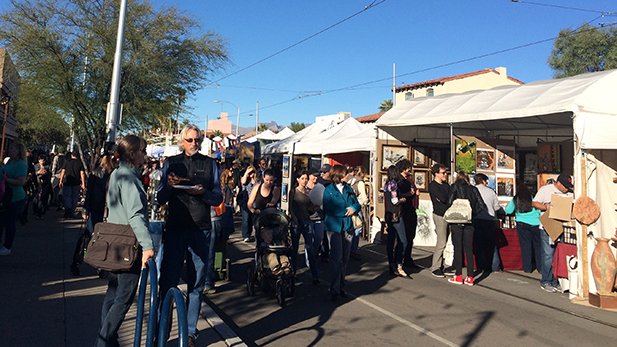 The Winter 2015 Fourth Avenue Street Fair.

Sophia Paliza-Carre, AZPM
Listen:
About 300,000 people are expected to descend on the 4th Avenue Spring Street Fair, which runs from 10 a.m. to 6 p.m. Friday through Sunday.
The event brings road closures in the area, beginning Thursday afternoon.
Roads that travel east/west between University Boulevard and Eighth Street are closed within a block on either side of Fourth Avenue.
The lone exception is Sixth Street, which will remain open through the weekend.
Fourth Avenue is the only north/south road that will close for the event.
Its closure will affect the streetcar. Riders who want to travel through the Street Fair area will have to disembark at the Fourth Avenue/Eighth Street or University Boulevard/Third Street stops and ride a Sun Tran bus to the other end of the Street Fair.
Roads are scheduled to re-open late Sunday night.
The streetcar will resume normal service Monday morning.