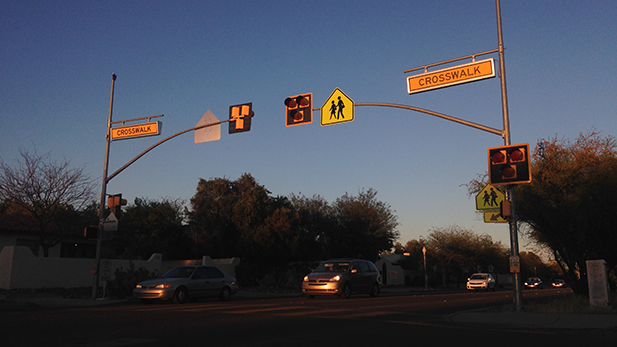 A HAWK pedestrian crossing similar to this will go along 22nd Street near Santa Rita Park.

Mariana Dale, AZPM
Listen:
A one-mile section of 22nd Street from Osborne Avenue to the Union Pacific tracks has been designated a "Pedestrian Safety Corridor," by the Tucson Transportation Department after a high number of fatalities and crashes.
The stretch had 25 crashes, five pedestrian deaths and one bicyclist death last year, said Kylie Walzak of the Living Streets Alliance.
As a result, the stretch south of downtown will get new warning signs, flashing lights and signaled pedestrian crossings.
"There's a large park, Santa Rita Park, on the north, and there's a lot of activity crossing from that park into the neighborhood and vice versa, and there aren't a lot of these safe crossing options in that one mile stretch," Walzak said.
The Living Streets Alliance will hand out free bicycle and pedestrian safety lights and child's helmets Wednesday evening at Santa Rita Park.