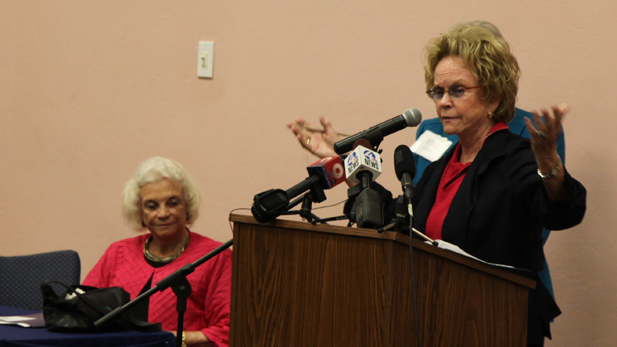 Ann Day speaks at an event in Tucson in July 2012, along with her sister, Sandra Day O'Connor.

Christopher Conover
Former Pima County Supervisor Ann Day died Saturday morning in a car crash on Tucson's northwest side, Sheriff Chris Nanos said. Day was 77.
She died after the car she was driving was hit first by a car that crossed the median, then by another vehicle behind her, a sheriff's deputy reported. The crash was on East Ina Road near the Westward Look Resort.
Day served on the county board from 1999 to 2011, representing District 1. Before that, she was a state senator for 10 years.
Day was the sister of Sandra Day O'Connor, retired U.S. Supreme Court justice. The Day sisters grew up on a Graham County ranch that their grandfather homesteaded in the 19th century.