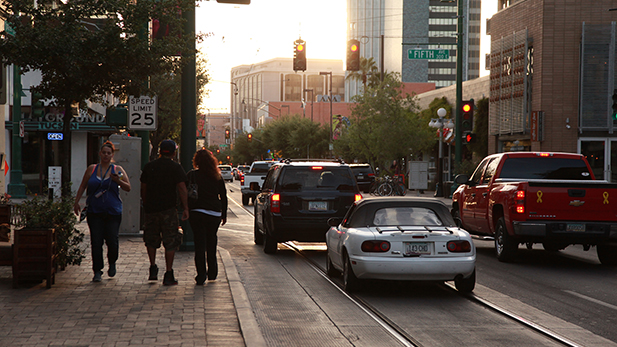 People walk along the streetcar route in downtown Tucson on April 5, 2016.

Tess Salmon, AZPM
By Julie Luchetta
Listen:
Skyler Azrael has lived in group homes and on Tucson streets for five years since he said his mom kicked him out of the house.
Today, he's 21 years old and spends his days in downtown Tucson. At night, he sleeps where he can.
"I just find the most safest spots, where I won't get bothered, keep to myself mostly," Azrael said. "It's pretty much survival each day. You don't got that survival instinct, you ain't going to live out there."
Skyler fits the profile of homeless youth described in a study by the U.S. Administration for Children and Family. It surveyed 873 homeless youth in 11 cities and found more than half became homeless when a parent or caregiver ordered them to leave. Homeless youth on average leave home at 15 and spend two years on the streets.
Local organizations estimate roughly 5,600 youth experience homelessness each day in Pima County. Many bounce around between relatives or spend nights sleeping on friends' couches. For others, living on the streets is the only recourse.
"It's not right that we are on the street, but we chose to be on streets for a reason," Azrael said. "And sometimes, that reason is that we don't have family out there that wants to help us, but we need that help."
Broken family relationships can start cycle of homelessness
Several agencies in Tucson provide assistance for homeless young people, including Our Family Services.
CEO Pattie Caldwell says her organization took part in the federal study, which found half the youth surveyed spent time in foster care.
"Arizona itself has a much higher removal rate for children coming into foster care than many other states and when kids are removed routinely from their parents, it becomes much harder to solidify those family connections again," Caldwell said. "Therefore, it becomes much more likely these children won't end up in stable housing and will run away."
A majority of those surveyed nationally said they couldn't find beds at shelters. In Tucson, officials reported last year there were enough shelters for the homeless. They found a disconnect between available resources and individuals needing them.
Caldwell said the longer a young person lives on the street, the more likely he or she will become a crime victim. The federal study found that 60 percent of homeless youth reported being raped, beaten, robbed or otherwise assaulted.
"Many of them turn to substances to dull the pain of the traumas that they've gone through, both before they ended up on the street, and after," Caldwell said. "So many young people end up with substance abuse disorders, and then they have to deal with that as well."
'You get a lot of scars from being on the streets'
Ashley Stevens lives downtown and runs in the same group as Azrael. During the day, she stays close to the homeless men and women camping on the grassy patches in front of the Pima County Public Library.
"I've been on the streets for four years since I was 14," Stevens said. "I am homeless, I take full responsibility. I am. People when they judge me, it don't faze me. I don't let it faze me. I don't let it ruin my day."
Stevens says being a homeless young woman is especially dangerous. She says she has been assaulted several times and used to prostitute herself for drugs.
"You get a lot of scars from being on the streets," Stevens said. "The memories haunt your life forever."
Caldwell said that can be isolating for homeless youth, especially because counseling services for them are lacking.
"For any young person who has been traumatized, and certainly for anyone who has lived on the streets, their trust in adults goes down," Caldwell said. "Rebuilding that, as well as rebuilding their confidence in themselves as a person and their ability to succeed is extremely difficult."
It may also contribute to a high rate of suicide among homeless youth.
"When it comes down to it, I'd rather have a spot that I can call my own, a home that I can go to at night," Azrael said. "I don't like being out here any more."
For Azrael and others like him, being homeless makes finding a job, which could lead to housing and a more stable life, a difficult prospect.
Julie Luchetta is a freelance journalist in Tucson.