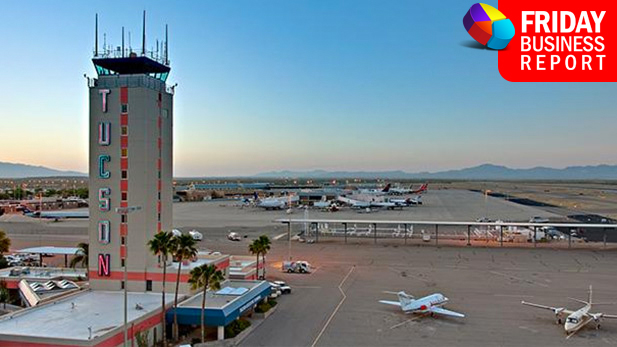 Listen:
When it came time to break the news Tucson International Airport would again have a nonstop flight to New York City, the honor went to Bill Assenmacher.
"We were lucky enough to get what we call our favorite airline, American Airlines to start service, Tucson to New York, New York to Tucson, daily service," he said with Frank Sinatra's 'New York, New York' playing in the background.
Assenmacher is a board member for the two organizations at the heart of the TIA to John F. Kennedy International Airport route, the Tucson Airport Authority and the Tucson Metro Chamber of Commerce.
The chamber and its members think service to and from the Big Apple could mean big business for Tucson.
The industry that stands to be the biggest winner is tourism.
"More flights means more people, more revenue, and certainly more jobs in Tucson," said Visit Tucson's Brent DeRaad.
Tourists who would fly New York to Tucson come with an added bonus– deep pockets.
"For us it's really significant because New York travelers tend to stay longer and they spend more money per day while they're here as well," said DeRaad.
The new flight means more opportunity for tourists and conference-goers to see Tucson, and that may lead to short-term or long-term return visits.
"We know that a certain percentage of people who sample our wonderful hospitality and climate here in Southern Arizona will decide to buy that second home here," said Tucson Metro Chamber President Michael Varney.
Varney said deepening a connection to the biggest metro area in the U.S. could be lucrative for the local economy.
Bringing in the new flight and the dollars the business community thinks will accompany it was not an easy task.
"We're competing with cities all over this country for that same airplane," said Tucson Airport Authority President Bonnie Allin. "New York is a long distance. So it basically ties up a plane."
The incentives the airport can bring to the table are fee waivers, rent waivers and also, marketing money," she said. "What the federal regulations do is the minimum guarantee of profitability."
An airport is not allowed to offer up any money to an airline, but other entities can, and in this case, did.
"The principal incentive is a $3 million guarantee fund, which was essentially paid for by the private sector," said Tucson Mayor Johnathan Rothschild. "It's just a fund like an insurance fund, and we're hoping that it's never drawn upon."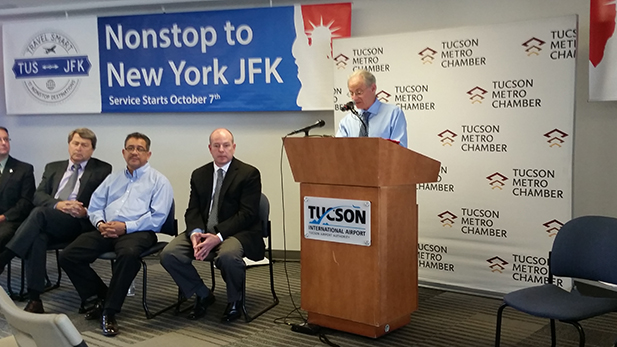 Mayor Jonathan Rothschild speaks at the announcement of Tucson International Airport's new route to and from New York City's John F. Kennedy International Airport.

Zac Ziegler
If American Airlines is not selling enough tickets, it will get money from the guarantee.
Neither side would give much detail about how the fund works, what kind of profits American is guaranteed, or how long ticket sales have to be low before they can get a payment.
The guarantee is the big incentive that many think brought another step in the right direction for Tucson International Airport.
By the time a flight leaves for JFK, it will have been nearly five years since a step was taken down that path.
TIA has not added a new route since Alaska Airlines began flying nonstop to Portland, Oregon on a seasonal basis. The first flight on that route took off in November 2011.
There is hope that it will not be five years before more new flight announcements are made.
"We want to fly into [Washington] DC, up to Vancouver, into Mexico and get back to Albuquerque," said Tucson Airport Authority and Tucson Metro Chamber Board member Bill Assenmacher. "We have about five destinations, and this is just our first step."
Those involved are confident this addition could mark a turning point.
"I think what this will do is cause other airlines to sit up and take notice and wonder what they're missing by not upping their nonstop service from Tucson," said the Chamber's Michael Varney.