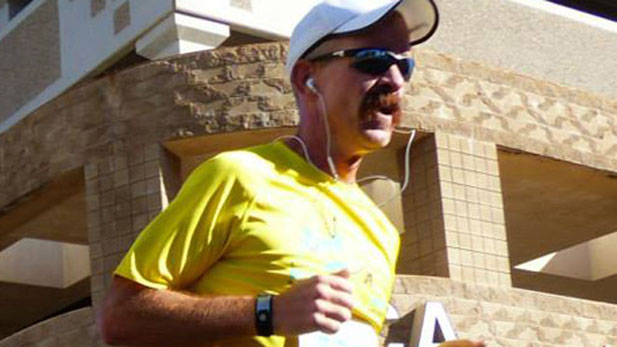 Tucson-to-Phoenix runner Geoff Schmidt.

Kerry Wheelan, aka Goatographer
The next time you drive between Tucson and Phoenix, think about what it would take to travel that distance without a car or bike. Here is an interview with a Tucsonan who did just that...
Geoff Schmidt began his run at 7 p.m. on a recent Friday, when early monsoon weather lowered the temperature, but raised the humidity.
He made the 125-mile trip in 2 days, running mostly at night using both trails and frontage roads. Schmidt started at the Cancer Center at the University of Arizona, and was greeted by a small group of friends and family at the finish line in the parking lot of the U of A Cancer Center in downtown Phoenix.
"There were some detours, like a car crash on (Highway) 87 and some course changes, but it still came out to a little over 125 miles total in two days," Schmidt said.
Schmidt, 44, took up running four years ago to better his health, lose weight and help kick his two-decade smoking habit.
The Tucson-to-Phoenix super marathon was one of his personal goals and a way to raise money for cancer research through private donations and underwriting from local businesses.
Schmidt also said he was looking for a way to combat the helplessness he experienced when his brother-in-law Steve died from brain cancer in 2015.
In the end, Schmidt said his run raised more than $2,000 for cancer research, and word of his achievement is still helping to bring in donations.
His next goal? Qualifying to run in the 2017 Boston Marathon.