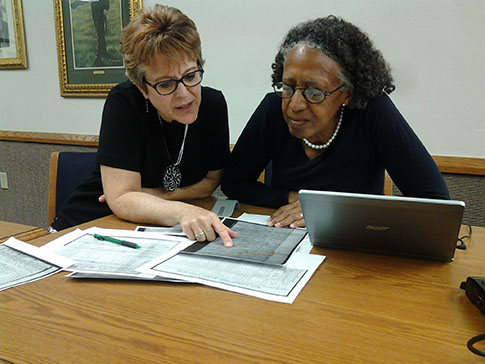 Debbie Weitzell, left, and Stephanie Gelsinon scan Freedmen Bureau documents.

Tony Perkins, AZPM
A newly digitized index of family history is bringing people face-to-face with stories from the past.
That includes African-Americans in Tucson, who are digging through the data to reunite with their families, and find details about ancestors who were previously lost to history.

Part of what Tucsonan Stephanie Gelsinon knows about her long-ago relatives came from oral histories, passed down through generations of her family. Now, she is researching another piece of the puzzle, documents archived in the Family Search website, which helps people track their family tree.
The site's volunteers have compiled data from more than 1 million documents recorded by the Freedmen's Bureau, a federal government agency created in 1865. Among other things, people who worked for the bureau kept detailed information about newly freed slaves in the South.

"It's almost overwhelming, because some of the stories I heard as a child are starting to make sense," Ms. Gelsinon said. "Doing family research has helped me so much."
Gelsinon discovered information about an aunt and uncle, and their child, a family of relatives she never met.
"They all died within a year or two of each other," she said. "Their son was named 'Snookie.' Snookie was four when he passed away. I always wondered about them, because I was never able to meet any of them, and I was so thrilled when I finally found Snookie."
Ongoing post-war conflict between the North and the South led to the bureau's demise after seven years, but the stories hidden between the lines lived on.

The Mormon Church specializes in finding and compiling family histories. Debbie Weitzell is a spokesperson for the Church of Jesus Christ of Latter-day Saints in Tucson.

"Because we are so far flung in our society now," she said. "You can go anywhere you want in the world. This is a way for families to reconnect."

Volunteers finished their task of indexing the records of almost 2 million freed slaves and refugees, and will check them for accuracy this summer.
The Smithsonian National Museum of African American History and Culture will receive the records in a symbolic handover later this year.
At that time, all the records will be available to search online here the touch of a button and free of charge.