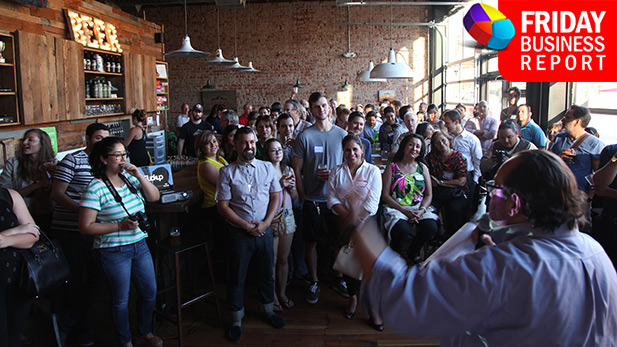 Felipe Garcia introduces the speakers who are about to tell the room about times that they failed.
Pueblo Vida Brewing Company is packed with entrepreneurs and members of Tucson's business community.
They've gathered to network, have a beer, and maybe learn a little about big mistakes each other have made.
The event, well, we'll call it Failure Night, but the organizers use a different phrase that also begins with F.
That phrase is just as taboo in polite society as 'failure' is for many in the business community.
And the goal of this event is to help remove the taboo from failure.
"You have to understand that you're going to fail once in your career at least, and you need to learn from those failures. That's the purpose of this event," said Felipe Garcia, executive director of Visit Tucson.
The idea for the event came while Visit Tucson officials were in Mexico City on a business trip.
"And in one conversation with some people in Mexico, they talk about this program. When they say 'F-up nights' we were like 'well, what is that?' And once they started explaining the concept, I said we need to bring this to Tucson," he said.
While a visitors bureau may seem like an odd group to be holding such an event (though they are not alone, they have partners in the event including Startup Tucson), to Garcia it makes perfect sense.
"If we build a strong business community here in Tucson, we'll get better demand for travel, for people to come here. This program will help us assist entrepreneurs in learning about failures from other businesses and how they can become successful," he said.
There are around 130 cities holding 'Failure' Nights around the world.
Tucson is one of three in the US and the only one in Arizona.
The first speaker on this night is Alok Appadurai, the owner of Fed by Threads.
"The journey to get there has been filled with tons of lumps, bruises, failures and lack of success," he told the crowd.
His story revolved around his efforts to start up a company that used waste grease to create biodiesel in the early 2000s in Connecticut.
His company had just landed a deal with large scale commercial food producer Sodexho, they would collect all of the grease produce by the company in a five-state area.
"This was our big breakthrough moment. We need trucks, we need equipment, and we need manpower. But this was 2008. (groans) Anyone remember what happened then? The financial markets froze," he said.
Appadurai was not able to buy the needed equipment, and he closed the company.
When asked what he would have done differently, Appadurai said collect more startup capital.
Mike Feder tells his story to the 'Failure' Night attendees. The evening's other speaker, Alok Appadurai, is seated to the left.

Zac Ziegler
The next speaker was Mike Feder, he worked in the front offices of professional baseball teams for 35 years, including stints with the Tucson Toros, Sidewinders and Padres.
One of his earliest jobs was with a minor league team in Jackson, Mississippi in 1979.
"I'm going to talk about how cocky I was when I went there, and I made a prediction that we were going to break all of the attendance records," Feder said.
Mother Nature had other plans.
"Little did I know that the greatest flood in the history of Jackson occurred in the first week of the season."
The flood caused $500 million worth of damage in Jackson.
"There were eight inches of rain in 24 hours. The only way to get to the ballpark was on a boat. Usually not a good way to draw fans," he told the crowd.
Despite the tumultuous, wet start, Feder said the season ended with attendance on par with other years prior to his arrival.
"I think it's important for people to hear that you don't give up. You can sit and feel sorry for yourself all you want, but what are you going to do about it," he said.
Another takeaway that event organizers hope for is the realization that failures happen to everyone.
"There's three kinds of business people: those that have failed, those that have not failed yet, and those who lie," said Felipe Garcia.
He said some of the most revered figures in history did not fear failure.
"Thomas Edison said 'I have not failed. I've learned 10,000 different ways how not to do something,'" Garcia said.
And perhaps Tucson's future business leaders can have more success as a result of what they hear at 'Failure' Night.
MORE:
Arizona
,
Arizona Business Report
,
Business
,
Pima County
,
Downtown Tucson
,
Economy
,
Entertainment
,
Events
,
News
,
Tucson
,
U.S.