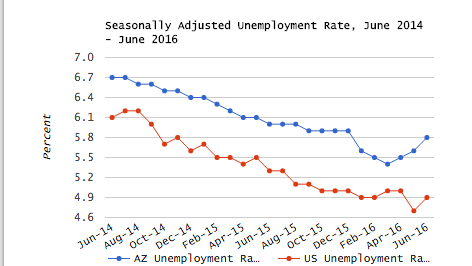 Arizona Department of Administration
Arizona's unemployment rate rose from from 5.6 percent in May to 5.8 percent in June, the state Department of Administration reported Thursday.
June is usually not a good month for Arizona's job market. Since the end of the recession, the state has lost an average of 52,400 jobs in the month, mostly because of educators taking the summer off.
Despite that, last month was better than normal, with a loss of 39,700 jobs.
The biggest losses occurred in the government and tourism.
"Typically in June we see large seasonal losses in state and local education as the school year ends," said Arizona Department of Administration's Doug Walls. "We see this in government and leisure and hospitality, food services, which have contracts with the schools."
Arizona's job market has added more than 80,000 jobs in the past 12 months. All those gains have come in the private sector.