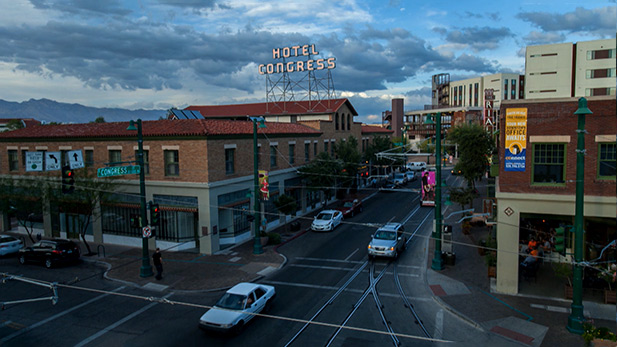 Overlooking downtown and Hotel Congress.

Nate Huffman, AZPM
That group includes the mayor.
"Growing up here, I remember when all the activity was downtown, the drug stores, the movie theaters, the department stores," Mayor Jonathan Rothschild said.
This was the Tucson of the 1950s and '60s.
"As time went on, we watched downtown essentially deteriorate. What was left were the government buildings, the courthouses, some lawyers, some bail bondsmen," he said.
Downtown did not entirely dry up in the following years. There were still restaurants and shops that called the area home during the down years.
That includes clothing shop Hydra, which has been at the same downtown location for more than 20 years.
"It was actually pretty cool around here. I mean, most people down here don't remember 1994, but there was an intimacy. We had book stores, we had many galleries down here," said Hydra's owner, Margo Susco.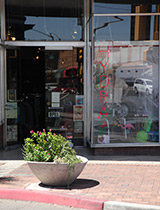 Hydra has been a downtown staple since it opened its doors at Congress St and 6th Ave in 1994. (PHOTO: Zac Ziegler)
A key to those times for Susco was that the area had enough businesses to attract people to the area.
"And especially during the day, it was even better because we had critical mass and there was a whole lot to do during the day, which is what we're really lacking today," she said.
As those stores left the area, downtown started to clear out.
That trend has changed in recent years.
"The last six years have been almost a storybook scenario," said Michael Keith, president of the Downtown Tucson Partnership. "During that time we have seen 250 businesses open, we've seen $500 million in private investment, thousands of jobs created, and we, I think, have begun to re-create Tucson's image."
Keith said the revitalization of downtown got its start with a handful of infrastructure projects. They include ensuring the safety and maintenance of the Rialto and Fox theaters, improvements to the streets in downtown and at nearby Interstate 10 interchanges and new parking garages.
He pointed to one large project that took years and $200 million to complete.
"The streetcar was really the cherry on top of the sundae. Out of all of the public works, that one was the most significant," Keith said.
Work on Tucson's streetcar began in 2011, and service started in July 2014.
The years of construction were not easy on businesses.
"Luckily for us, at that point we had 18 years behind us. They essentially blocked off all access to downtown, so you really had to want to get in," Susco said.
Construction was under way when Rothschild took office, and an early goal of his was to make changes that he thought would add fuel to the revitalization fire.
"We eliminated 178 pages from the land use code, we cross-trained our inspectors, we focused on planning and development services to make it more," Rothschild said.
The city also established an incentive program to spur business development.
The Government Property Lease Excise Tax gave an eight-year waiver to developers and business owners who make significant improvements to property values.
While incentives were given to modernize, there was also a push to maintain the historic.
Another program helped to restore façades of older buildings.
That program is responsible for work done at various locations including the old Chicago Music Store, the University of Arizona's downtown campus and the building that houses Johnny Gibson's Market.
"A lot of what Tucson has going for it is that it is a historic community. Because of the high preservation ethic that was set by the formation of the historic districts, we actually preserved quite a bit of our downtown," the Downtown Partnership's Keith said.
The aim was to help downtown grow while keeping the area's uniqueness.
"The homegrown, funky things which people love, and now a sense of, yes we can have the modern, we can have the business. Bringing those two things together is going to take Tucson to the next level," Rothschild said.
That can include the music, food, culture and any other experience that stands out in people's minds as Tucson.
That includes the residents, who are heavily invested in the area.
"We calculate that 95 percent of them are either local, Tucson businesses or statewide businesses," Keith said. "So even the retail mix - restaurants, clubs and retailers - is intrinsically local."
Keith is about to retire, and he is departing as a second wave of redevelopment is in the works, including an estimated $500 million in new construction projects that are in some phase of planning.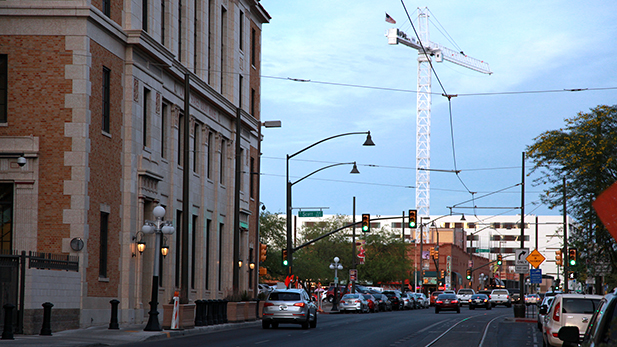 Construction for a hotel in downtown Tucson on April 5, 2016.

Tess Salmon, AZPM
"If even half of those go, you're going to see a whole new chapter of downtown being written in the next 36 months," he said.
That could be just the start.
By Keith's estimate, there is still plenty to be done in downtown. He said the area has reached about 20 percent of its potential.
Margo Susco said she hopes the next phase bring more retail shops like hers to the area. She said she thinks that would help make the area more than just a nighttime destination.
"We want to be a little more like a 4th Avenue in the sense that you can go from shop to shop or hit a coffee shop or a restaurant, and you can walk around for three or four hours and never lose interest," she said.
But ultimately, she said, it is a great time to be downtown.
"For those of us long-timers, it's an exciting time to be here for all of this."