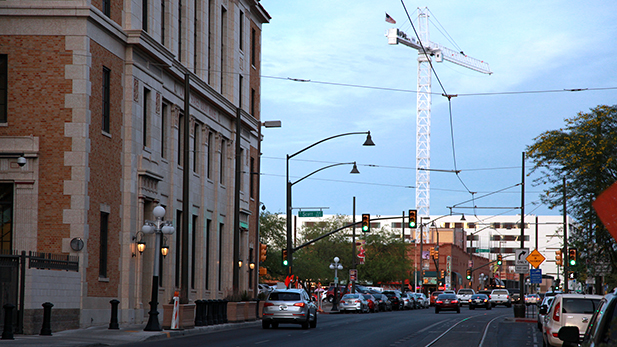 Construction for a hotel in downtown Tucson on April 5, 2016.

Tess Salmon, AZPM
In 1999 Tucson voters created a redevelopment district called Rio Nuevo to impose a sales tax for revenue to inject new life into Tucson's core.
"Monolithic museums, a science center, the ill-fated Rainbow Bridge, which was, think the St. Louis Arch; it was going to be built over the freeway," McCusker said, "a new arena, an Indian center, an IMAX, an aquarium..."
Over a decade, none of those projects got past the idea stage. All that's left of them is piles of studies and millions of dollars in debt. Rio Nuevo did accomplish a few smaller goals, including renovating the Fox and Rialto theaters.
Eventually the state Legislature took Rio Nuevo away from the city and replaced its board of directors. That's when McCusker got involved. The agency's expectations are much lower now, but McCusker says that's a good thing.
"The downtown you see today ironically is part and parcel because of Rio Nuevo's failure," McCusker said. "Instead of those big iconic government-run museums, we have a lot of small, small, entrepreneurial businesses: restaurants, bars that have made downtown a destination."
Today Rio Nuevo can spend only about one-tenth of the money it takes in, because the other nine-tenths has to go toward paying off the debt left by the old board. McCusker says the agency now focuses on leveraging the small amount of available money through public-private partnerships, to enhance Tucson's niche standing among American cities.
"We're a Southwestern city that has 4 square miles of urban environment surrounded by the open desert, acres and miles of community." McCusker said. "We're never going to be a New York or Chicago, but what we've seen in other cities like San Diego, you can create an urban destination that's attractive to a group of people."
Visit Tucson Communications Director Dan Gibson, agrees, saying while Tucson doesn't have the sheer size or central location of a major city, but what it does have is unique and valuable.
"I don't want to classify ourselves as a tertiary city, but is that sort of the next class of places that may not be for everyone," Gibson says. "So we try to market ourselves as being the right place for the right type of person."
If cities were cars, New York might be a limousine, and LA would be a minivan. Tucson would be something quirky like a Nissan Cube or Honda Element: small, distinctive, and not for everyone.
"It's off the beaten path, I think," Gibson said. "That's been a part of what is charming about Tucson is that it's a little bit different."
But even a small and quirky place has to be economically viable. McCusker says putting downtown on solid footing requires three things: "Live, play and work is the way we view the future."
The play element - bars and restaurants - is well established downtown, and the coming minor-league hockey team will burnish downtown's status as a place to play.
The live part is coming along nicely, too. More than four hundred housing units and a similar number of hotel rooms are under construction downtown. The next major project to reach completion in about a year is the AC Marriott, a 137-room boutique hotel that Gibson says will target travelers who want to explore the city, instead of calling room service.
"It's people who are looking to get out of the hotel in a way." Gibson says. "I mean you want somewhere to stay, you want somewhere that's comfortable, you want that has the amenities that you're looking for but it's not an inclusive space like a resort."
Permanent housing - condos and apartments - is also in the near future. The largest project is the Ronstadt Center, a mixed use project combining shops, hotel rooms and apartments over the current transit hub downtown.
What about the work part of live-play-work?
Fletcher McCusker says locating corporate headquarters to downtown Tucson is an essential step in making downtown revitalization stick.
"So Caterpillar's huge in that regard because a lot of people are going, 'What the heck? Caterpillar's going to Tucson!' So we've heard from a lot of other companies who are now beginning to look at Tucson, the affordability, the lifestyle," McCusker says.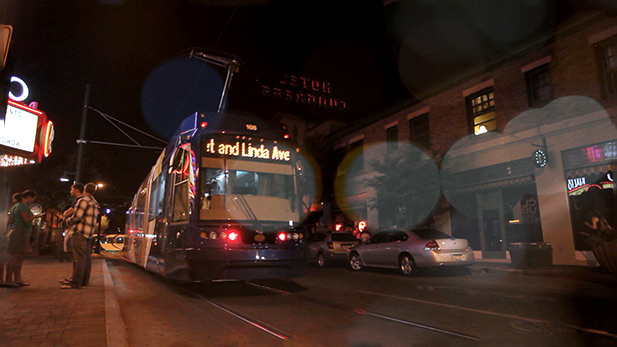 A streetcar passes by the Rialto Theatre in downtown Tucson.

Nate Huffman, AZPM
Linking the elements of living, working and playing downtown is a transportation system, and the success of Tucson's 2-year-old streetcar system downtown has surprised many, including McCusker. He says he thought the streetcar idea was a "fool's folly" until it went into service two years ago.
"But what is done is create an excitement about light rail and there's just something romantic about getting on a train and going someplace," he says.
Gibson says almost immediately the streetcar created a high-demand corridor where businesses wanted to locate.
"From the west side at Mercado St. Augustine to the University of Arizona we have this space that you can. That's valuable and it's worth exploring and I think that's really has made a change," Gibson says.
So after years of floundering, downtown Tucson appears well on its way to once again becoming an economic hub, a place where people live work and play. But long-term success is not guaranteed.
McCusker says until the elements of live, work, and play are all firmly established downtown, another economic downturn at this point could severely set back the revitalization effort:
"If for some reason the people stop coming, disposable income drops, you could see a recession affect probably the bars and the restaurants more than anything else. So knock on wood, we do need a good economy, I think, for downtown to thrive," he says.
For Gibson, keeping downtown Tucson growing depends on keeping Tucson real, staying the Old Pueblo instead of trying to be the Big Apple.
"It's always going to be a little bit slower paced." Gibson says. "It's a place that's always going to be super casual and relaxed, and I think as long as those things don't change. I'm not sure how they would. We'll be fine."