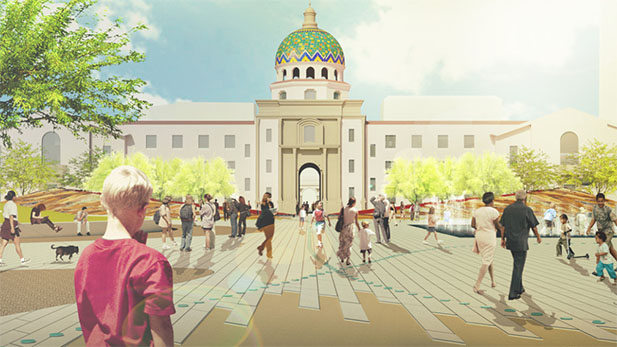 Final design for the Jan. 8 memorial by the Chee Salette Architecture Office.

Courtesy of January 8th Memorial Foundation
An organization raising money to break ground on a site commemorating victims of the Jan. 8, 2011 shooting in Tucson is offering the chance for two donors "naming opportunities" at prominent parts of the memorial.
For $1 million, a donor's name will be permanently displayed at the Pima County Courthouse Garden. A $500,000 gift will secure naming rights to area called the garden walk, a press release from the January 8th Memorial Foundation said.
The site planned for El Presidio Park in downtown Tucson will celebrate how the community came together after the shooting rampage, which left six people dead and 13 wounded in 2011.
The foundation has raised about $1.2 million in donations, though at least another $4 million is needed to build and maintain the memorial.
Other components of the site, such as lighting, could also be named through donations, said Crystal Kasnoff, executive director of the foundation.