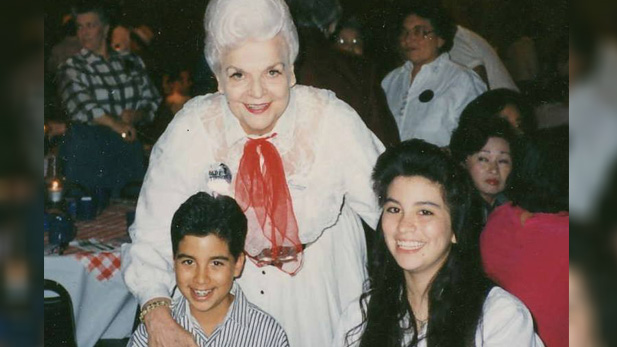 Rose Mofford at a constituent dinner in Tucson in 1990.

Courtesy of Jennifer and Daniel Eckstrom
Rose Perica Mofford, the first female governor of Arizona, died Thursday at age 94.
Mofford, a Democrat, became governor in 1988 after Republican Gov. Evan Mecham was impeached and removed from office by the Legislature. She retired in 1991 without seeking election to the office.
Before that, she was elected secretary of state in 1978 and won re-election twice.
Mofford, whose white hair in a beehive style made her instantly recognizable, was born in Globe and went to work for state government as a secretary after graduating from high school.
Tributes poured in upon news of Mofford's death at a Glendale hospice where she had been under treatment since falling last month, a friend told news media outlets.
"Rose Mofford's story is a truly unique Arizona story. Rising through the ranks of state government to our state's top office, she shattered a once-thought-unbreakable glass ceiling and served as an unparalleled role model to many," Gov. Doug Ducey said in a press release.
Former Arizona Attorney General Terry Goddard, son of a former Arizona governor, praised Mofford for guiding the state through the turmoil following Mecham's impeachment.
"She was the perfect person to pull Arizona back together and get us back on track and she established the confidence locally but that did a world of good to restore our image across the country," Goddard said.
Mofford said in an interview with Arizona Public Media in 1989, about a year after she took over the governorship, that she felt progress was being made.
"The state has continued to move forward," Mofford said. "There isn't the chaos that we were faced with when we went into office. And I feel, and I've heard it nationally as well as locally that stability has been brought back to the state of Arizona"
Chris Herstam was Republican whip in the state House of Representatives when Mofford was governor and said he remembers that she reached across the aisle.
"Even though she was a Democrat, she worked very well with Republicans," Herstam said. "Rose Mofford was one of a kind."
The governor's office ordered flags to fly at half-staff in remembrance of Mofford.