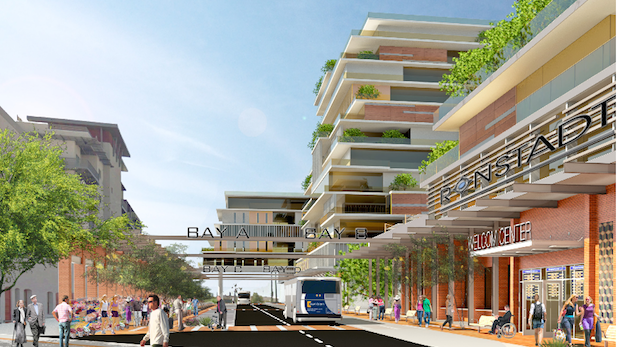 Design drawing for Peach Properties' proposed development of downtown Tucson's Ronstadt Transit Center.

Courtesy Peach Properties
Two proposals for development in Tucson's resurgent urban core are on the City Council agenda for Tuesday.
The first is council approval of a predevelopment plan for the Ronstadt Transit Center by Tucson's Peach Properties. The $67 million project will include up to 400 apartments, parking, retail and public-transit space. Completion is expected in phases stretched over the next four years.
The second is a proposed $7.2 million sale of city land west of downtown in the Mercado area to the Rio Nuevo district for Caterpillar Inc.'s division headquarters. A report with the City Council agenda said the sale price will be decided from the $13.3 million the city owes Rio Nuevo for another downtown project.
The council will meet at 5:30 p.m. at City Hall.