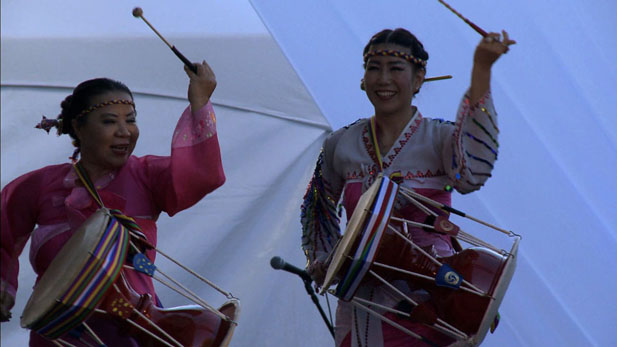 A drum group performs at the 2013 Tucson Meet Yourself.

AZPM
Every year for more than four decades Tucsonans and visitors alike have had the opportunity to get to know the Old Pueblo better by way of a gathering of diverse community members and groups.
In 1974, the first "Tucson Meet Yourself" brought about 2,000 visitors downtown. Now in its 43rd year, organizers expect 100,000 to 120,000 to arrive at the city's civic center.
Many are coming for the food, which will be served up by 60 vendors.
"In fact, Tucsonans have a joke of calling the festival 'Tucson Eat Yourself,'" said Maribel Alvarez, University of Arizona professor and executive program director of the organization that puts on the event.
But it's more than just a collection of food trucks, with three stages for music and dance, folk artists, 78 community groups and a low-rider car show.
The scope of the festival - and the community it represents - can be a surprise to first-timers, Alvarez said.
"The first thing that people tell me is … they didn't realize there was that much diversity here. People expect that kind of ethnic cultural diversity in the large cities - in Los Angeles, Chicago and New York. And you come here and you think, 'My God, this is Tucson,'" she said.
"We have 45 different ethnicities, all of which are proudly rooted in their traditions, in their culture."
The free festival starts today and continues through Sunday, Oct. 9. For more information, visit the website.