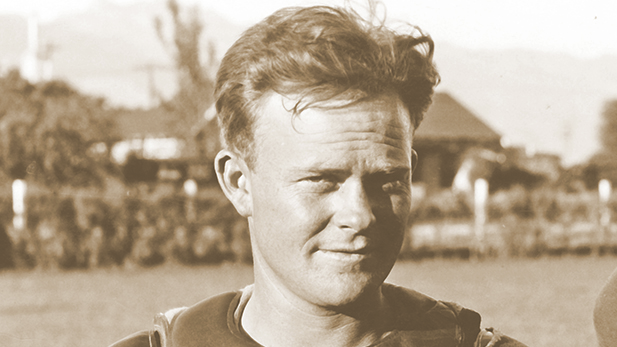 University of Arizona Athletics
Just outside Arizona Stadium on University of Arizona campus sits a statue of a young man whose final message to his teammates became words shouted by many a Tucsonan over the past 90 years.
It is pretty easy to find people in Tucson who know John "Button" Salmon's story. The first two people I approached on a fall day were able to assemble it between them.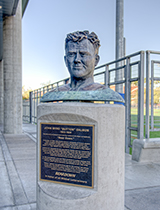 The statue of John Button Salmon originally sat in front of McKale Center, but now sits just outside Arizona Stadium on the northeast side. (PHOTO: University of Arizona Athletics)
"He's a UA hero, as far as I know. I think he played with the football team," said Jeff Irvin.
"I think he was student body president, and that's basically where the 'Bear Down' chant came from, was from him. He was telling the fellow football players to bear down and win one," said Dave Beatty.
"That's when he was on his deathbed, I think, right? Laying there and he told the team to bear down," responded Irvin.
"So all the football guys, they usually go by and tap [the statue] on the head to get a little team spirit going," added Beatty.
Salmon was the Wildcats' quarterback and student body president in 1926.
But before the football team's first game, he was in a car accident on the road between Tucson and Phoenix. He died on October 18, 1926, but not before leaving a final message for his team with coach Pop McKale: "Tell me to bear down."
Salmon, who was born and reared in Bisbee, played football and was a catcher for the UA's baseball team.
"We knew about Button Salmon's career at the University of Arizona," said Mike Anderson, a baseball historian who lives in Bisbee. "That's well documented. But what we didn't know about was what he did in the summertime."
During Salmon's time, the Southwest was dotted with baseball teams that existed outside the Major League system.
Players in the independent leagues were mostly community members, but ringers often found their way onto the teams.
Those players were often professional baseball players who were banned from Major League Baseball, earning them the nickname "outlaw leagues."
Anderson had heard talk around town that Salmon was spent some time playing with a nearby team in 1925.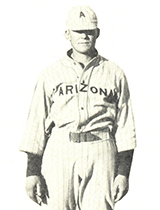 Salmon was a catcher on the University of Arizona's baseball team. He played the same position for the Douglas Blues in the summer of 1925. (PHOTO: University of Arizona Athletics)
"I went down to Douglas and researched in their paper. And, lo and behold, Button Salmon spent the summer of 1925 from July through September playing baseball on a team in Douglas, the Douglas Blues, of the outlaw Copper League, with real outlaws."
The Blues were definitely a team that contained outlaws. In fact, it included some of the most well-known outlaws of the day.
"So the infield for the team at that time consisted of Hal Chase, the first baseman that Babe Ruth and Ty Cobb called the best in the business," said Anderson.
Chase was blackballed from the majors after multiple accusations of fixing games for organized crime.
Next to him was Chick Gandil, a second baseman who was banned from baseball's top league for playing a role in throwing the World Series.
"Shortstop was Buck Weaver, one of Chick Gandil's teammates on the 1919 Black Sox infield," he said.
Chase, Gandil and Weaver were all doing their best to scratch out a living from baseball. That was not the case for John Button Salmon.
"He's saving his money. He's taking that back and paying for his tuition. He was committed to his education. His whole family was committed to education. Back in a day when most people didn't graduate from high school, both of his parents had attended college," said Anderson.
Bear Down also came from Salmon's formative years in southern Cochise County.
"The bear down slogan, that didn't start at the University of Arizona. Button brought that up with him from Bisbee High School," he said.
Anderson likes to think that the Salmon many Tucsonans think of shone through during that summer.
"I can't help but believe that in the summer of 1925, John Button Salmon, a redheaded kid, 5' 8", 145 pounds from Bisbee was yelling at Buck Weaver, Chick Gandil and Hal Chase to bear down."