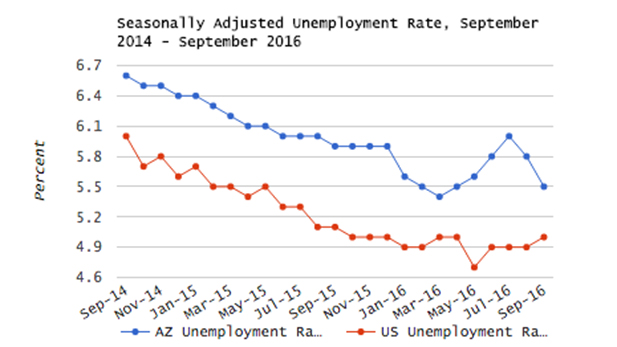 Arizona Office of Economic Opportunity
Arizona's unemployment rate decreased to 5.5 percent last month, according to a report from the state Office of Economic Opportunity.
The state added 32,700 jobs in September, 28,900 of which were public sector education jobs.
The post-recessionary average gain in the month is 25,700.
School-year hiring tends to show up in August, September and October job reports.
"It can vary because of the timing that each school is reporting," said the agency's Doug Walls. "We did see above-average increase in state and local education in September, but that could be offset by numbers that we see in the coming months or numbers that we have seen in past months."
The school year also played a role in the private sector's biggest area of growth in September.
The educational services subsector added 5,100 jobs as a result of for-profit colleges and universities gearing up for the fall semester.