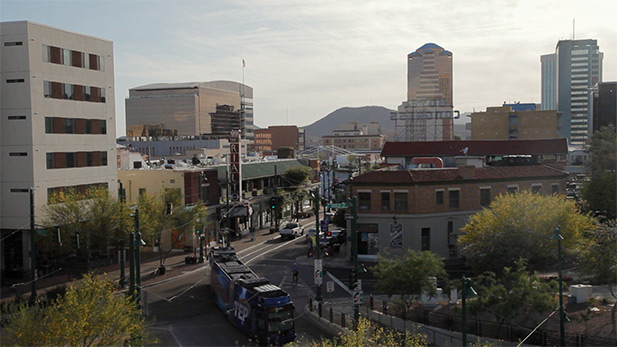 A streetcar moves through downtown Tucson.

Nate Huffman, AZPM
By Valeria Flores, AZPM Intern
Business growth continues to surge in downtown Tucson, with a new business opening in the city's core every 12 days or so, according to data from the public-private Downtown Tucson Partnership.
Rachel Campuzano and her husband Robin Wilson are downtown business pioneers who opened their doors eight years ago – the early stages of what has been called a downtown revival.
The couple own and operate Rae's Place Downtown Market on Stone Avenue just north of Broadway, where they sell food and medicinals.
"My husband and I worked at a place that was here prior called Simply Convenient. … It was something downtown didn't have," Campuzano said. "When it closed, it affected the people who worked downtown and lived downtown. We wanted to keep that going."
Businesses everywhere come and go, and downtown has seen a level of turnover, recently. Two prominent Congress Street restaurants, Proper and Pizzeria Bianco, closed this year. Around the same time, Elvira's restaurant and The Screamery ice cream shop opened on the same street.
They are among 240 businesses that have opened since 2008, the Downtown Partnership said. Those businesses, combined with public investment in the core of the city, total nearly $1.5 billion and bring with them hundreds of construction jobs.
Tucsonan Michael Keith has seen the revival over the years, first as a developer and for the last six years as CEO of the Downtown Tucson Partnership.
"There is hardly any undeveloped land right now that isn't already under contract," Keith said. "There's 22 housing projects and development projects being looked at that pretty much tie most of that."
Keith left his position as the partnership's CEO last week, saying the dynamic downtown is as strong as he's seen it. Part of that strength, he said is an environment in which entrepreneurs who want to open businesses have an easier time than elsewhere because rent isn't too high.
"We have everything in place to be the beneficiary of the high prices in California. Who can launch a small company in Silicon Valley? Nobody has that kind of dough. But you can come here and do that, all day long. The rents are cheap."
Dana and Chauncey Padilla know that. They own Urban Fresh, a vegan restaurant on East Pennington Street. Dana says it's a business opportunity they saw on a trip to Tucson from Colorado.
"We came down to visit family and friends, and we just happened to see the restaurant and we really liked the concept. We liked what they were doing," Dana said.
The business resurgence caught their attention, too.
"We also saw what was happening downtown, the revitalization that was finally coming to fruition. It's a pretty vibrant place to be now," she said.
The Padillas say they bring a bit of what Chauncey experienced in the military when he was stationed in the United Kingdom.
"Just the way that they treat each other over there. How it's so much different ... and how you do local," he said. "Over there ... they have a market that you can go to every single day in every single village almost."
For the Padillas and other downtown Tucson entrepreneurs, that means aiming for customers who want to shop and dine with local businesses. It's seen as proof that the public and private investment has a payoff.