Now that summertime temperatures have ramped up and the sun is shining bright, ground-level ozone is again forming, sometimes in levels high enough for a pollution advisory for sensitive people. Some advisories already have been issued by the Pima County Department of Environmental Quality and the American Lung Association of Arizona. The advisories encourage people with breathing difficulties to stay indoors as much as possible and reduce levels of exertion outdoors between the hours on noon and 6 p.m.
Ground-level ozone forms when solar radiation mixes with vehicle exhaust, gasoline vapors, chemical solvents, power plant emissions and other things. "When we start seeing high levels of ground-level ozone, we have a clear day, lots of sun, possibly a high-pressure system that's got a stagnant air mass above us and then we have very low winds," says PDEQ Senior Program Manager Beth Gorman.

Gorman says the best way people can reduce the formation of ground-level ozone is to reduce driving, by carpooling, riding the bus, or combining trips. Other tips include not topping off your vehicle's fuel tank and making sure your gas cap is tightly sealed after refueling.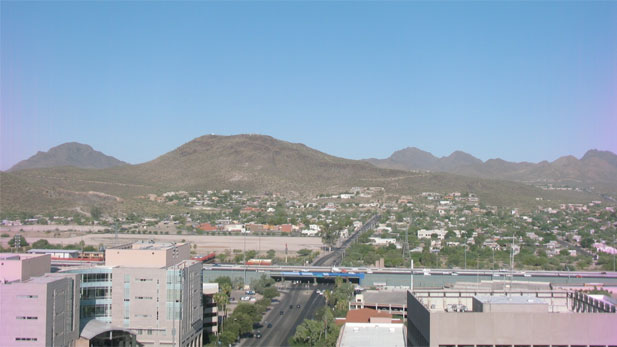 Image of pollution camera from PDEQ monitoring site downtown.

PDEQ
Photo Courtesy PDEQ
PDEQ operates the website AirInfoNow.org, where you can monitor real-time air quality, track ozone levels and much more. Also, you can call the Air Quality Information Hotline (520) 882-4AIR (4247).