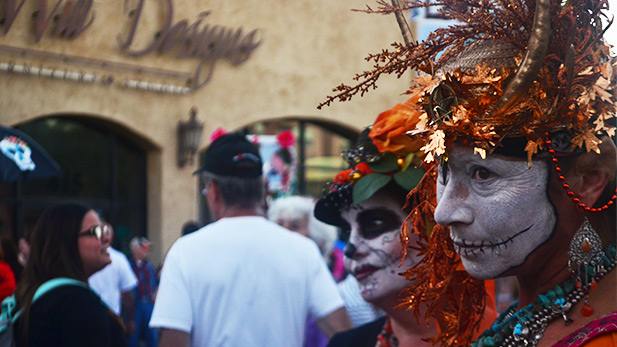 Maria Inés Taracena, AZPM
By Brooke Goldstein, AZPM Intern
Thousands of people will march through the streets of downtown Tucson this weekend to remember those they have lost.
The All Souls Procession is a spin-off of "Día de los Muertos," or Day of the Dead, a Mexican tradition with pre-Colombian roots.
The event has grown each year, and this weekend more than 100,000 people are expected to take part, said procession volunteer and photographer Susan Tiss.
"Every single person that participates brings whatever their preferred tradition is or whatever their preferred religious practice is, if they have one," she said.
The procession started in 1990 after local artist Susan Johnson looked for a way to celebrate the loss of her father.
Today, thousands of people travel from all over the world to attend and participate in the walk.
One can expect a diverse group of people, including many in costume, most wearing Day of the Dead makeup and some simply holding photos of loved ones, Tiss said.
The main event will be held Sunday, Nov. 6th starting at 7p.m.