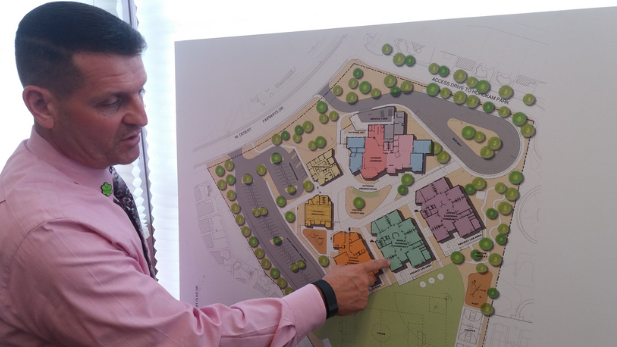 Principal Michael McConnell reviews a map of the Innovation Academy.

Michael Hernandez, AZPM
By Michael Hernandez, AZPM Intern
Amphitheater Unified School District wants to take science and tech education to a new level next school year by opening an Oro Valley campus offering a STEM curriculum for children as young as kindergarten age.
The school's hands-on learning approach will be a good fit for her son, said Sarah Kirchoff.
"Our four-year-old, he has been taking things apart and putting them back together and trying to see how things work ever since he's been big enough to do so," Kirchoff said. "So for us this was a really interesting opportunity to come and see what the school was all about."
Kirchoff became interested in sending her son Kenny to the school when it opens next August after she went to an information night for the newly named Innovation Academy, she said.
The focus will be on teaching science, technology, engineering and math to students in kindergarten through fifth grade.
Veteran teacher and administrator Michael McConnell will run the school. He says its active learning approach will let students design projects directly related to the skills they learn, blending reading and writing, math and science, and engineering and social studies. Enrollment will be capped at 500 students.
"Now I want to be clear from a district perspective, we offer STEM programs in all our elementary schools and all our middle schools and high schools, so we provide STEM for all," McConnell said. "The Amphi STEM school is just going to provide it in a different way and at a higher volume."
Kirchoff says she was already sold on the campus before McConnell reassured her about what the school will provide.
"I feel like the principal, what he was talking about, just really makes me feel comfortable that it will be a well-rounded education, not just the STEM, but really just such a positive learning environment," Kirchoff said.
Alana Fischer and Brad Hoffmann also attended the meeting. They have two sons, one in second grade and the other in pre-kindergarten. Fischer was interested in the structural and social aspects of the academy.
"I've been excited that it's coming and wanted more details because my oldest is a very STEM-oriented kid and I think it would be a really good fit. But I can't say 100 percent yet if I'm committed," Fischer said.
Hoffmann said their younger son isn't as STEM-oriented as his older brother, but after the meeting he's considering sending both to the academy.
"I was thinking we were going to two schools, but after tonight I'm leaning more towards putting both of them potentially into the same school because it's going to be in a great opportunity for both of them," Hoffmann said.
The school will be in a residential neighborhood near North La Cañada Drive and West Moore Road in Oro Valley. It will include computer labs and outdoor learning spaces with flowerbeds, water harvesting tanks and a greenhouse. McConnell wants the academy to set an example for the kind of space and opportunity schools should provide.
"I hope that once the school is up and running that one, it becomes a leader in STEM education, but also it becomes a model of what a school should look like," McConnell said.
Amphi is now seeking teachers with STEM backgrounds for the academy who want to work in a different environment, said Curriculum Manager Roseanne Lopez.
"Teachers at this school that will be most successful we believe will be ones who have some kind of a science background, and that doesn't mean that if they're a kindergarten teacher they have to have a science degree," Lopez said. "What that means is they would have had to be a kindergarten teacher that has taught science and has taught it well with their little 5-year-olds."
Interviews will begin Nov. 30. Teachers who apply need to understand project-based learning, have good classroom management and be tolerant of different kinds of activity happening in the classroom at once, Lopez said.
While the school will focus on STEM subjects, art, music and physical education will be part of the curriculum. For parents such as Sarah Kirchoff, the opportunity to send her son to the Innovation Academy seems to be the best option.
"I feel like it's just going to give him the best foot forward in his career as he gets older, and I feel like it's really just going to be the best way to foster his love of learning," Kirchoff said.
The district is accepting students from all areas for grades one through five. There is a wait list for children entering kindergarten. Open enrollment ends Jan. 27.