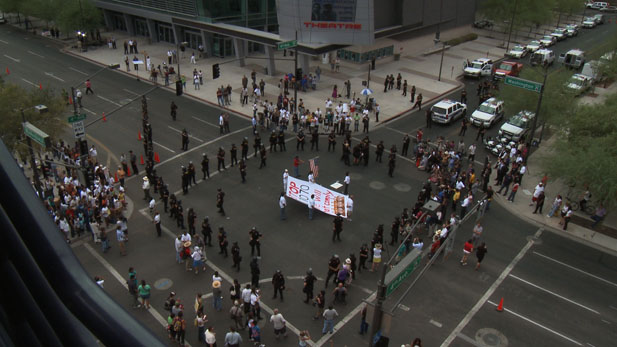 Supporters and opponents of SB 1070 gathered outside the Federal Courthouse in Phoenix one week before the law is supposed to take effect. Judge Susan Bolton heard arguments in two separate hearings from civil rights organizations and from the United States Department of Justice.
Representatives from various civil rights groups attempted to persuade Bolton to stop 1070. Nina Perales is the Southwest Legal Council for the Mexican American Legal Defense and Education Fund. Perales believes the effects would be discriminatory and that the police will have difficulties implementing the law due to its ambiguity. "We're not alleging that this law will require the police to pull over every Hispanic person in the state of Arizona. What we're saying is that the law is creating a situation in which officers are being put in the impossible circumstance of having to try to form reasonable suspicion about immigration status, just on what they can observe about a person."
Thomas Liddy is the attorney for Maricopa County's Sheriff Joe Arpaio. He says that the plaintiffs have failed to prove that this Arizona law would conflict with federal law. SB 1070, he argues, mirrors US Congressional law. After the first hearing he told reporters that, "The people of Maricopa County are free, and want the political autonomy to live under laws that they've passed. And they're not particularly appreciative of people coming from other states, and even from other countries to try to influence this Federal Court, to try to veto a law that was duly enacted by the people of the state of Arizona."
Regardless, residents of Arizona, and elsewhere, assembled to block a downtown intersection during the second hearing. Several people in the center held a sign reading, "Stop 1070, we will not comply." At least seven of those people were later arrested for refusing to clear the intersection after police had asked them to do so.
Despite adamant opposition outside the courtroom, Arizona representatives remained confident. Governor Jan Brewer seemed pleased with the hearing and said "Judge Bolton has a very good grasp.... of the issues that we're undertaking in there today. And she certainly understands the dangers that Arizonans face in regards to harboring of illegals in the state of Arizona."
John Bouma, a private attorney representing Arizona acknowledged that Bolton could strike parts of the bill, though he was confident she would not strike it down entirely. He stated that he believes she will make individual decisions on each section of the law.
Bolton did not indicate when she would make a decision. SB 1070 is scheduled to take effect on July 29th, and protesters are preparing for a march.
Arizona's SB1070 hearings
azpm