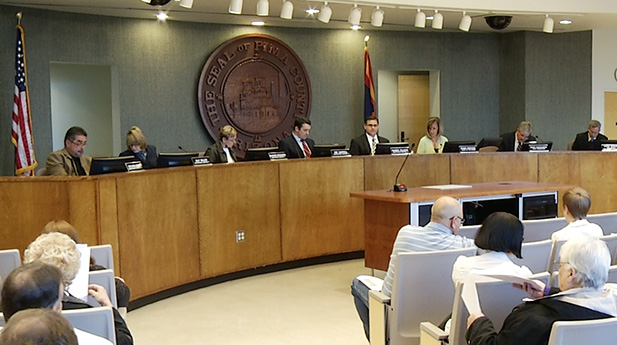 Pima County Board of Supervisors at a meeting in early April 2015.
The Pima County Board of Supervisors voted 4-0 to extend lease options to the Rio Nuevo Multipurpose Facilities District for two properties in downtown Tucson.
County officials see offering Rio Nuevo the option to lease or buy the property as a way to allow the parcel to be developed with economic development incentives, but not end up in court over the issue again.
The Phoenix-based Goldwater Institute recently sued Pima County over the economic development package it gave to space balloon company World View.
"We don't feel we're prohibited from doing this, but since we're in court on it, we figured the safest and most conservative approach was for us to not enter into a development agreement with anybody," said Pima County Director of Economic Development John Moffat.
The properties are at 75 E. Broadway Blvd., which is currently a parking lot, and 332 S. Freeway, the former site of the Theresa Lee health clinic.
Moffat said the county has heard from multiple parties that are interested in the properties.
The agreement would call for the properties to be leased at market rates, $140,000 a year for the Freeway property and $163,000 a year for the Broadway property.
A Pima County press release said the county expects Rio Nuevo to discuss the offer in the next few months.
A map of the two properties Pima County is looking to lease