District Judge issues preliminary injunction blocking the most controversial sections of Arizona's new immigration law from taking effect.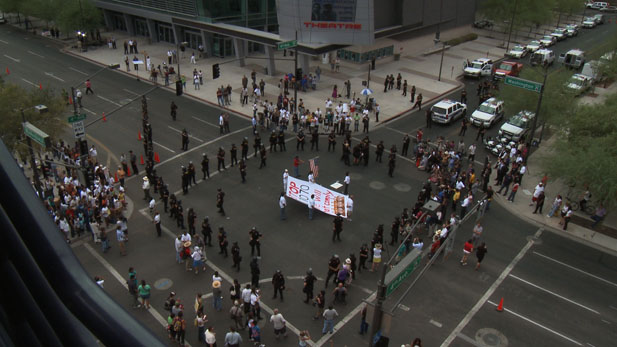 SB 1070 will still take effect tonight at midnight, but without many of the provisions that angered opponents. Those provisions are now on hold, until the courts resolve the issues. U.S. District Judge Susan Bolton suspended the sections that required officers to check a person's immigration status while enforcing other laws. She also put on hold the part of the law that required immigrants to carry their papers at all times. Also on hold is the section that makes it illegal for undocumented workers to solicit employment in public places.

The judge did uphold parts of the law. State and local law enforcement still must enforce federal immigration laws to the fullest extent of the law. Individuals will still be able to sue an agency if that agency adopt any policy that restricts such enforcement of immigration laws. Bolton also let stand the part of the law that creates misdemeanors crimes for harboring and transporting illegal immigrants. All those provisions go into effect at midnight tonight.
Today's decision hands a major legal victory to opponents of the crackdown. Opponents of the law have argued that it will lead to racial profiling and is trumped by federal immigration law.
Reporter Christopher Conover was interviewing Arizona Governor Jan Brewer when the ruling was issued. He got her reaction to the ruling only moments after she received the news herself.
sb1070 ruling

View at Google Docs
|

Download File