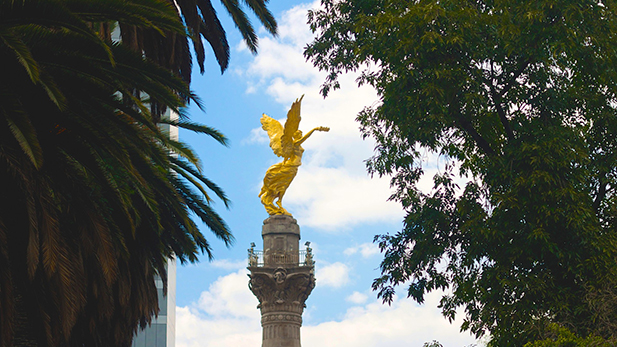 Angel statue at the Monument to Independence in Mexico City.

Ken Kistler
MEXICO CITY - Basketball fans in Arizona and Mexico are looking forward to January, when the NBA'S Phoenix Suns will be playing the Dallas Mavericks and San Antonio Spurs in Mexico City. But sports aficionados aren't the only ones waiting with high expectations.
The games in Mexico City will be a chance for the Suns to build a stronger fan base across the border, but others will take the opportunity to strengthen the political and commercial ties.
Antonio Proto, head of the City of Phoenix office in Hermosillo, is helping organize a delegation of politicians and business people from Arizona to watch the games.
"I know that the mayor, Stanton, wants to go and he has some friends who want to go. Governor Ducey wants to go and he is also bringing friends. So I think we we're going to have a good crowd of people from Arizona rooting the Suns in Mexico City," Proto said.
Proto expects at least a 100 people in the delegation. 
As part of their activities, Proto said the delegation is planning to invite leaders from Mexico City to root for their team, but also to network.
"We want to leave the great feeling of saying Phoenix has a great basketball organization and welcomes Mexico," Proto says.
The relationship has a strong value: Arizona exports to Mexico were valued at more than $9 billion in 2015.
But Proto also expects that many other Arizonans will join the games and get a closer look to the capital of Arizona's top business partner.
"You have 22 million people in Mexico City, and it's like New York, you have everything," he says.