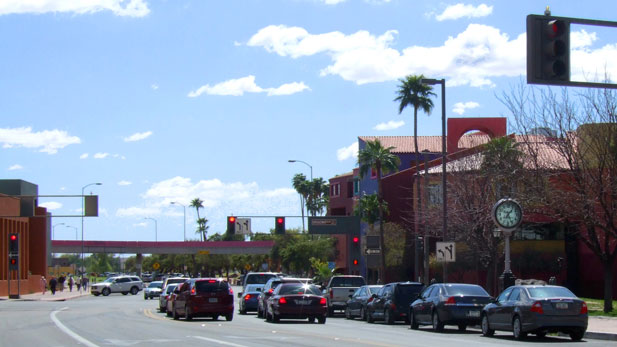 Traffic in downtown Tucson.

AZPM Staff
Tucson police will use a grant from the Governor's Office of Highway Safety for intensive traffic enforcement at eight busy intersections next year.
Police Sgt. David Brotherton said the $75,000 grant will allow officers to focus on speeding, failure to yield right of way and tailgating.

"This gives us dedicated time to go out and do this specific stuff without having to be pulled away to handle other issues,and that's what makes it effective," Brotherton said.
The money will put more officers to work watching for aggressive drivers.
In the first phase of the 10-month project, police will concentrate on 36th and Kino, Oracle and Grant, Alvernon and Grant, and Broadway and Wilmot.
In the second phase, the focus will be at Campbell and Valencia, Campbell and Speedway, Kolb and Speedway, and Golf Links and Swan.