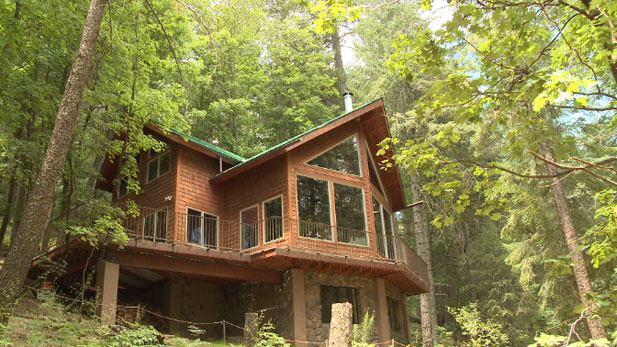 Mt. Lemmon Cabin

azpm
Summerhaven is only about an hour's drive away from Tucson, but for many visitors to the area, it seems like a world away from the lower desert. Temperatures are usually 20 to 30 degrees cooler up there which makes the setting very attractive for many people like Joaquin Guerrero and Laurie Damiani.

The couple from Tucson would love to buy a place in Summerhaven but they're discovering that this cool, green comfort has a price. "I've seen stuff from half a million dollars to ¾ of a million dollars and I'm sure they're very nice but way out of our price range. And lots for like a $100,000 so then you have to build something there or put a little tent," says Damiani followed by a laugh. She and her husband have lived in Tucson for decades but they would enjoy a reprieve from the high summer temperatures in the city. "We thought about it, get a place here, Flagstaff or even Show Low but it's too far, too far to drive. We want to get a place close to home, you know because we love to go to the Wildcats games, basketball and we'd just like to stay in the area," says Guerrero.
Bob Zimmerman has been living and selling properties on the Mount Lemmon for decades and he says that prices can vary greatly depending on location and type of cabin. He says you also have to take inflation into account compared to prices from decades ago.
Since the Aspen Fire of 2003, many of the new cabins are much larger than traditional cabins, fitted with large picture windows to take advantage of the scenery and modern amenities for the new owners. "They're a lot nicer, the new cabins, but they're also bigger by almost 60 percent," says Zimmerman. They also cost much more, " I would say 60 to 100 percent more than the old ones because they're much larger and they're much nicer. "
Zimmerman says in Summerhaven proper, the US Forest Service deeded 300 acres for hundreds of homes which means that buyers get the land where the cabin is built. In Willow Canyon and Soldier Camp, on the other hand, you buy the cabin but the Forest Service continues to own the property underneath. "Typically the Forest Service cabins are under $100,000 except for a couple that were brand new that they built after the fire. Deeded properties, cabins, start at about the mid-300s and go on up from there."
Still, buyers like Betsy Branyan say this small community offers big advantages for residents, and the environment among the pine trees is just one of them. "It's a small area and there is no more. You know, it is what it is and with the population growing in Tucson this is quite a little gem. And people are just shocked when they come up here for the first time to see what's here and how different it is. And how you can get away from the heat in less than an hour and have a wonderful day."
And Tucson residents Laurie Damiani and Joaquin Guerrero aren't giving up just yet. "Who knows, we might get lucky," says Guerrero. In the meantime, they'll have to visit as often as possible to enjoy the cooler temperatures in Summerhaven, or crank up the air conditioning in Tucson.
Mt. Lemmon Cabins
azpm