Tucson's 235th birthday will be celebrated next week, although the month-long celebration already is underway.

Even though historians document the area has having been inhabited for more than 12,000 years, Tucson officially was founded on August 20, 1775.
"That was when Hugo O'Conor came, on behalf of The Spanish crown, to chose a location for a new presidio," says Kyle McKoy, Director of Education at the Arizona Historical Society. "What is now Arizona had a presidio at Tubac and they were having problems. Apaches were constantly harassing them. They were in a very remote area and then the Spanish king wanted to realign the presidio line to make it a stronger border and so they decided to move it north, to what is now Tucson."
Tucson was chosen, in part, because the top of Sentinel Peak, or "A" Mountain as it's commonly known today, provided a high vista to scout for enemies at long distances, McKoy says.
Tucson's birthday celebrations include an exhibit at the University of Arizona Main Library. "We have a number of resources that highlight Tucson's history, such as historical maps and photographs," says Alexandra Rivera, Assistant Librarian of Instruction and Outreach.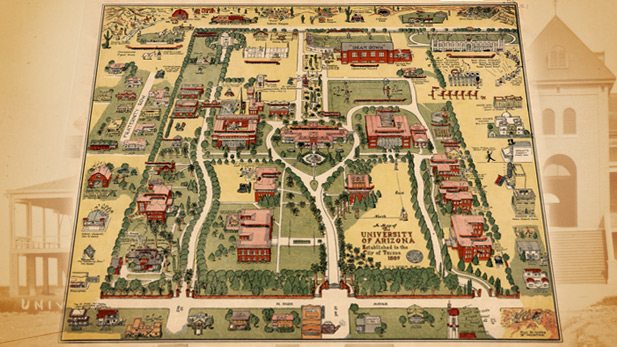 AZPM/UALibrary
University of Arizona map, 1933
The exhibit also includes historic playbills from concerts on campus, tourist brochures and more.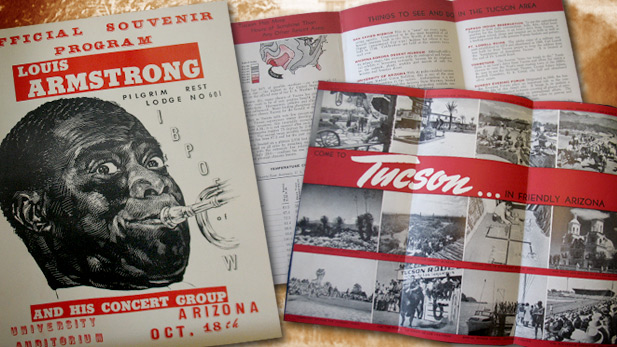 AZPM/UALibrary
Rediscover Tucson: A Celebration of the Old Pueblo is open during normal UA Library hours through September 10th.