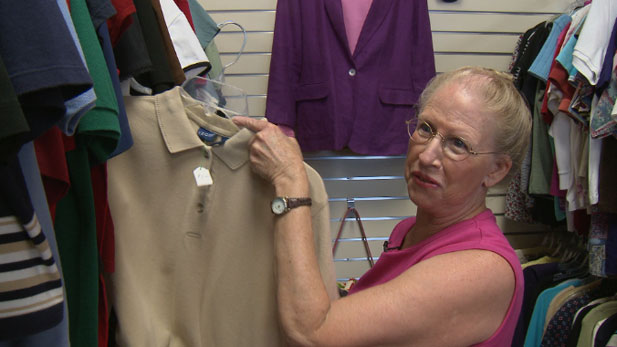 Customer shops at thriftstore

azpm
Two local thrift stores have recently moved into new and bigger facilities which is making it easier for them to provide services to thousands of people in Southern Arizona.
The Value Village began operations in 1965 and had a location on 4th Avenue north of downtown Tucson for decades but it recently opened a new facility on Stone Avenue near Glenn Street. Value Village is run by the Beacon Group which provides opportunities for people with disabilities. At the larger location, the Beacon Group is able to raise some of the funds which are used to help more than 1,500 people in the community every year. Some of the training they're involved with includes laundry services which can help prepare them for jobs in the hospitality industry.

"The space over there was mostly merchandise space" says assistant manager Mary Toltin about the previous location. "Here we have more space to be able to repair stuff and launder. Now we can train crew so they can work in hotels." She says the new location also provides a better shopping experience for guests. " "This store is a brighter facility, it's cleaner, it's carpeted- that's a wonderful thing, we had concrete floors on 4th Avenue. We also have ample parking, no longer reverse parking, that was always a pain in the butt down on 4th avenue. "
Scott Eames got involved with the Beacon Group in 2005 and eventually moved to the store to work. " Jobs are hard to find, the economy these days is really bad out there," he says. And he enjoys another benefit especially since he has needed a new wardrobe since becoming much more active, " "It's a lot cheaper buying stuff here than other stores, I've bought some clothes here. I lost a lot of weight, I lost 95 pounds."
In the community of Catalina north of Tucson, the Golden Goose attracts thousands of people a week, and many are happy to be able to shop in a new facility that also opened earlier this year. Buyers come from all over the state but many are local, like teacher Camille McKeever. ""Got a Chicos, Craft and Barrel, beautiful black sweater all for half price," she says with a smile. "I've been coming to the Golden Goose for years when it used to be up at the small location and sometimes you couldn't get in the door. So this is great that it's bigger and more selection and I'm looking for clothes for work. "
Store manager Stephanie Urdiales says the proceeds from the store help out thousands of people every year since the funds are distributed equally between Saddlebrooke Community Outreach and Catalina Community Services. Some of the programs include Meals on Wheels, scholarships for kids and English classes for local residents. "It means everything and it's enormous satisfaction, that's why I'm here. I feel guilty sometimes because I love being here and I love what I do and so it doesn't feel like work, so I just feel really privileged to be here, doing what I do, " says Urdiales.
And she adds that none of it would be possible without hundreds of volunteers every week- people like Karen Stott. "It's a lot of fun, it feeds your soul," she says. "You get to know all kinds of people that you wouldn't necessarily."
Supporters of both thrift stores say they are glad to be up and running and growing.
More people shopping at thriftstores
azpm