The debate over illegal immigration, enforcement tactics and border security is often held in the media, among politicians or between friends but while many discuss the issues, others are seeing them first hand.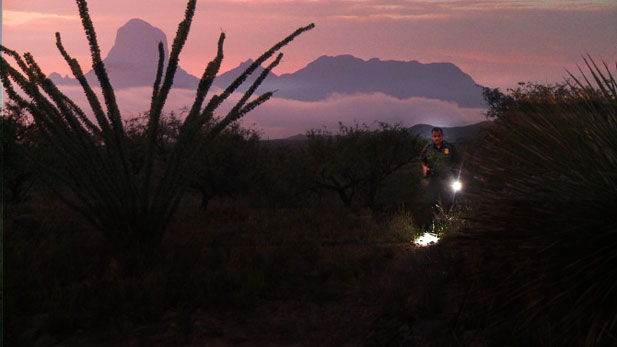 Border Patrol agent with flashlight

azpm
David Jimarez is one of more than 3,000 agents in the Border Patrol's Tucson sector, the busiest one in the nation, which covers 90,500 square miles. We recently went out with him southwest of Tucson near Sasabe and surrounding areas where he shared some of the details about the treacherous terrain, some of the dangers faced by officials and border crossers and some of the weapons used against them.
Standing next to a display cabinet at the Tucson headquarters, Jimarez speaks about some of the items obtained in the field.. They include knives, machetes and other non-traditional items for assaults. "For example the rock alone is nothing but picked up it's a weapon. Right here you have a bolt and it has a nut on it and it can also be used as a weapon. We do see sling shots out there and that will increase the velocity of the projectile and can cause some damage."
And Jimarez says the illegal immigrants also face many dangers as well. Sometimes they are robbed or assaulted by others in the field, or succumb to the elements. "We encounter all kinds of individuals in distress, often times, the majority of times it's going to be your dehydrated individual who didn't a have enough water," says Jimarez. "What happens is that these smugglers, these guides are constantly lying to these individuals that are trying to cross telling them that once they cross, within hours they're going to be in a vehicle, within hours they might be in Phoenix, within a day they might be in Phoenix. And that's not the case. Their trek can vary anywhere from 3 to 5 days and that just depends on how hard the smugglers are actually pushing them," he says.
Still - despite the increased attention and controversy surrounding the border, Jimarez says apprehensions have actually been cut down significantly in the past few years. For example, in 2000 there were approximately 616,000 compared 317,00 in 2008 or 241,000 in 2009. Jimarez says the decrease can be attributed to factors like additional infrastructure, personnel and technology.
US Border Patrol
azpm