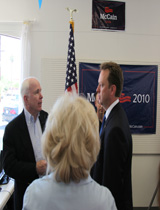 Senator John McCain began the last day of primary election campaigning in Tucson. He stopped by his campaign office to thank volunteers but also to get them fired up. But it wasn't his candidacy he was pushing, instead he spent most of his time talking up Jonathan Paton who is running for Congress.

Paton, resigned his seat in the state Senate earlier this year in order to run for Congress in District 8. Political observers assumed Paton was the favorite in the race, but political newcomer Jesse Kelly is keeping the race for the GOP nomination close. He even out fundraised Paton in the last reporting cycle. Kelly has postured himself as the conservative, Tea Party candidate in the race.
In his remarks to his volunteers, Senator McCain called Paton the right person for the job who could hit the ground running. He also praised Paton's conservative credentials and he told his volunteers when they are on the phone drumming up voters for his campaign to remind everyone to vote for Paton.
The winner of the Congressional District 8 race for the GOP will face incumbent Gabrielle Giffords in November.