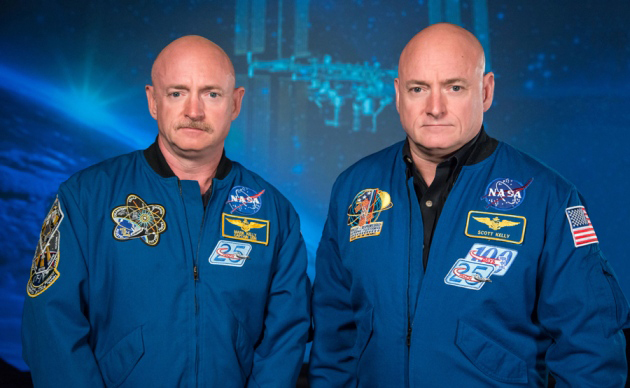 Mark Kelly, left, and Scott Kelly, right.

NASA
Listen:
NASA astronaut Scott Kelly will return to Earth Tuesday night after spending 340 days in space.
He and his identical twin brother, Tucsonan Mark Kelly, are participating in a study to determine the effects of long-duration space travel on the human body.
Mark Kelly spent a total of 54 days during four space missions as an astronaut. When NASA asked if he would be part of a twins study during his brother's near year in space, he didn't hesitate.
"I mean I'm a big fan of science, research, and I'm incredibly grateful to NASA and the U.S. government to give me the opportunity to have an incredible career there for 15 years so it didn't take much," Mark Kelly said. "They said would you do this, and I'm like 'sign me up.' "
What Kelly signed up for, along with his brother, was to be scrutinized by scientists from a dozen universities from the U.S. and abroad. They're looking for physiological and psychological changes that nearly a year in space might have caused.
The research focuses on:
Human physiology – how spaceflight may induce changes in the heart, muscles, brain, eyes, bones
Behavioral health – effects on perception, reasoning, decision making, alertness
Microbiology/microbiome –how dietary differences and stressors affect gut organisms
Molecular/"omics" studies – how genes in the cells are turned on and off by exposure to a space environment; how radiation, confinement and microgravity prompt changes in proteins and metabolites in biologic samples
Mark Kelly said many of the 10 experiments are studying the twins at genetic and molecular levels.
One of the studies is "looking at the effect of being in space on the age of the human body. You know there's your age according to the calendar but then there's your physical age. And those are not always the same. And the length of your telomeres is indicative of your physical age," Mark Kelly said.
Telomeres are the caps at the end of each strand of DNA that protect chromosomes, like the plastic tips at the end of shoelaces.
Because the Kellys are identical twins, their DNA, including genes, mitochondria and telomeres, are mostly identical. Or, they were nearly identical before Scott's time in space. The research will tell if that's still true.
Scott Kelly spoke about the research in a press conference from the International Space Station last week.
"One part of it is kind of a new area that NASA is getting into with this study, the effects of space flight on a genetic level. That's something I'm pretty excited about for personal reasons but also for the research to try to have a better understanding how this microgravity environment and the radiation environment affects us genetically," Scott Kelly said.
"There's a lot to learn, and as we've seen over the last 10 years that discipline of science has really just taken off. It's great to see us starting to focus on that in space as well," he said.
Mark Kelly says he is interested in learning about vision problems that long-mission space men have experienced. And "men" is the operative word here.
"Other experiments have to do with astronauts' vision. We're had this problem on the Space Station with long-duration astronaut that at least with the men, their vision has been seriously affected, Mark Kelly said.
"It's interesting, I think it's about 30 percent of male astronauts that spend a long time in space have a serious degradation in their vision due to a change in their optic nerve. For women, not the same amount. It's zero percent. So it hasn't happened to a single woman yet. So maybe when we send astronauts to Mars for the first time it will be a crew of women. Who knows," he said.
From space, Scott Kelly said he's seen some effect on his vision, "which is very consistent with what I experienced last time." He spent nearly 150 days in space in 2010-2011, and will hold the record among American astronauts for most time in space at a total of 520 days.
The Kelly twins at age 4.

Courtesy Mark Kelly
The brothers' current separation -- not the longest they've been apart -- has been softened by regular communication.
"People are like, 'well what is it like for him to be off the planet for a year? This must be really hard on you.' Nah, it's not hard on me. I talk to him on the phone about every day," Mark Kelly said.
Mark Kelly and a number of family members are in Houston Tuesday as the Soyuz spacecraft returns Scott and his Russian crew mates to Kazakhstan. The Kellys will be reunited Wednesday in Texas.
"He'll land in Kazakhstan, he'll go take a shower, he'll do some medical tests, he'll get something to eat and then he'll be on a NASA airplane coming home," Mark Kelly said of his brother's return.
From the Space Station, Scott Kelly said once he's back at his home, the first thing he'll do is jump in the swimming pool.
Mark Kelly says he misses space travel and would have liked to have had a long flight. Just not one lasting for a year.
"My longest flight was 17 days, and I always felt like I would have enjoyed to have more time in space. But a year is a huge commitment."