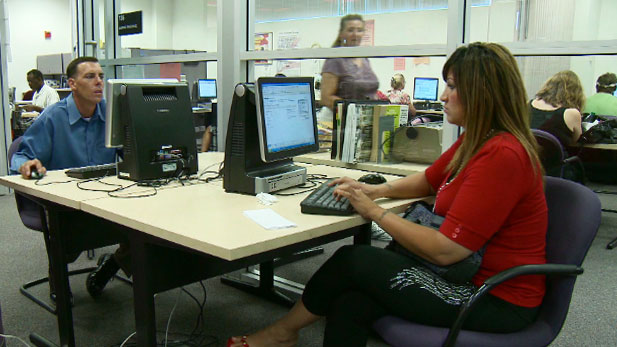 Economy and jobs training

azpm
The word on everyone's lips these days is jobs. The economy remains sluggish with the unemployment rate nudging double digits. That hasn't stopped activity in Tucson and Southern Arizona to put people back to work.
At the Pima County One Stop career center Laura Carpenter bends over her new laptop computer, a gift from her children. She uses it a lot these days, looking for work after she was laid off from a job in the medical field.

"It feels scary and your self esteem really drops," says Carpenter. "You're not sure if you're going to get another job in this economy and are you going to get enough to support yourself and your kids."
Carpenter decided to take a new direction, enrolling at Pima College to train to become a production machinist. After nearly completing the program she's hopeful the training will turn her fortunes around.
"I'v been searching the internet and they talk about those people retiring and the older ones are going to retire and I'm staying optimistic that this is enoughto get me in there, in an entry level position. I put in some hard work and I r eally want it to pay off," Carpenter says.
Carpenter received her training through the Pima county One stop Career enter and a program called Innovation Frontier Arizona . The five million dollar federal Wired grant has aligned Yuma, Pima Santa cruz and cochise counties to make the region more compeitive and pursue three goals: development of entrepreneruship, talent and regional collaboration. Project Director Dorothee Harmon says originally the grant aimed to build career ladders for incumbent employees, but when the recession hit the colleagues changed their focus.
"We shifted our emphasis from development of programs that would support a stronger career ladder to putting people directly, as many people as possible into training so that they could take advantage of the jobs employers had told us were in demand," Harmon says.
Dan Gibbs saw his income in retail sales drop by half and took advantage of the support offered by the One Stop Center, receiveing 8000 dollars to pursue a degree in avionics at Cochise College. He now has one offer in hand and looks forward to job security and a steady income.if
"If I didn't have the assistance from One Stop there would have been no way I could have completed the program, doing 66 credit hours, two to three hours of homework a night and three hours on the road every day," Gibbs says. "There was no time for a part time job, anything like that, so it literally made it attainable for me to do the program."
Southern Arizona has placed its focus on cluster industries identified by employers and outlined in the Tucson Regional Economic Opportuinies blueprint to diversify the employment base and grow the local workforce expected to fill the jobs of the future. David Welsh, Executive Vice President of TREO, considers the outlook more of attracting and retaining talent rather than creating jobs.
"The recession too shall pass," says Welsh. "We will emerge from this, and if we make the right deisions now on emphasizing industries that are not just the growth, building homes we'll end up with a stronger, more diversified economy, and hopefully the next time a recession comes it won't hit us quite as hard."
Once the economy does turn around the region will need thousands of workers to support emerging opportunities. While the One Stop provides resources for those seeking employment right now, the community has other resources for those who wish to ratchet their careers upwards. Clayton Hamilton heads the Pima County Workforce Investment Board, which has toiled for the past year to create what he calls upward liquidity for professionals.
"The professional and the highly educated tend to be left to look out for themselves becausez they're viewed as compentent, well compensated, and have plenty of resources of their own to deal with," according to Hamilton. "And the problem with that is it avoids creating a centralized system that provides connectivity for those types of people."
The board intends to convene affinity groups for professionals to network, specifically in the areas of IT, engineering and medical fields. On a less formal level, Valerie Rauluk, CEO of Venture Catalyst, Inc, does her part in supporting job growth. For the last decade she has served as a consultant in the solar industry, and sees the future in green jobs. The state of Arizona has approved a mandate that state utilities must achieve an energy savings of 22 percent by 2020, one of the most agressive goals in the country. Consider also that federal and local rebates will compensate commercial and residential propery owners up to 85 percentof the cost of installing energy efficient devices.
In the short run Rauluk has taken on the guidance of a summer intern, Casey Shaw, who will return to Laurence University soon to complete his senior year. He has spent this summer scouting Arizona for potential sites for solar arrays and considers the internship invaluable for meeting his future goals.
"Getting to see how someone runs their own business,how they position themselves and use their knowdlege about the marketplace and all their experience in the industry in order to create something out of nothing, to help corporations and be able to help yourself as well as helping them...that's extremely exciting and interesting and something I'd like to do someday," says Shaw.
In the long term, Rauluk lends her expertise to a pair of newly minted entrepreneurs from the University of Arizona Maguire center, Richard Rushforth and Kevin Pieters, whose business venture, Terra Voyant, seeks to redevelop degraded land into renewable energy sites.
"I took it upon myself to learn the skills I'd need to create a job for myself and jobs for other people," Rushforth explains. "It happened that my skill set lies in environmental chemistry and so that led into redeveloping and being on the green jobs frontier."
Terra Voyant partner Kevin Pieters drew on his experience as a Peace Corps volunteer in Samoa to help launch the enterprise, seeing a need for renewable energy in all parts of the world.
"I's been an interesting experience here, the opportunity to go with something and not necessarily work for another person," says Pieters. "Its always better if you're passionate about something, your own opportunity, than just waiting for a job to come around."
In the meantime, the system is working to get people back to work. Gibbs has an offer in hand and cosiders others, but looks forward to stabilizing his prospects.
"I see myself fulfilling that old American dream, being able to spend 20 – 25 years with a company and actually retire with a pension, which never was in my future with sales," Gibbs says. "It was always month to month on income and it changed every month, never the same and I'm looking forward to a nice income and having it same every month and to set my financial future up for the rest of my life."
Regardless of uncertain economic times today, the region has put in motion a plan for recovery, one that has the potential to lift all boats.
Economic uncertainty and job loss creating demand for job retraining
azpm