Arizona's pioneering Jewish congregation marks the milestone with a public ceremony.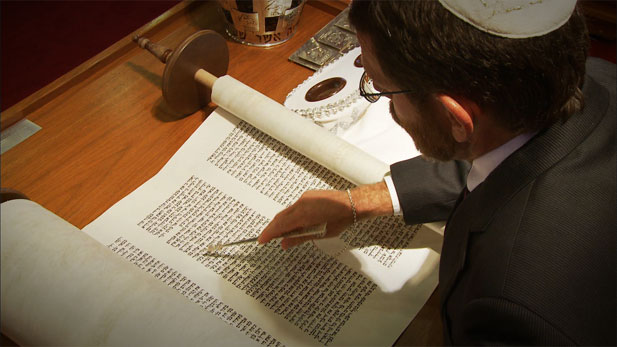 A Completion Ceremony (Siyyum) for Temple Emanu-El's 100th Anniversary Linda Nadell Centennial Torah, will take place Sunday, August 29th at 9:30am. One the great experiences in Jewish life is the privilege and pleasure of seeing a new Torah completed. The Linda Nadell Centennial Torah of Temple Emanu-El, celebrating the 100th Anniversary year of Arizona's first Jewish congregation, will reach its Siyyum Dedication ceremony on Sunday, August 29, 2010 at 9:30 am in the Rubin Family Sanctuary of the Temple. During this unique celebration the Scribe of the Torah scroll, the sofer Rabbi Shmuel Miller, along with a few honored members of the congregation, will fill in the final letters of the Linda Nadell Centennial Torah on the last section of parchment in Deuteronomy, final book of the Torah.
Although it is one of the holiest moments in all of Judaism all are invited to attend the Siyyum Celebration. As Rabbi Samuel M. Cohon, Senior Rabbi of Temple Emanu-El, notes, "The Siyyum is an amazing experience, absolutely unique. It is the completion of a year of a learning, labor, inspiration, and celebration."
The new Torah is being dedicated to the memory of Linda Nadell, Immediate Past President of Temple Emanu-El who passed away in 2009 from cancer during her tenure as president. Upon its completion, the Torah will be placed in the congregation's Ark. Temple Emanu-El's Adult and Teen Choirs will add musical beauty to the sacred celebration.
This ceremony is open to the public at no charge. The Siyyum will be held Sunday, August 29 at 9:30 am in the Rubin Family Sanctuary at Temple Emanu-El, 225 N. Country Club Road, just north of Broadway. The ceremony, which will include a short video that chronicles the writing of the Linda Nadell Centennial Torah, will be followed by a reception with delicious refreshments.

Torah
azpm