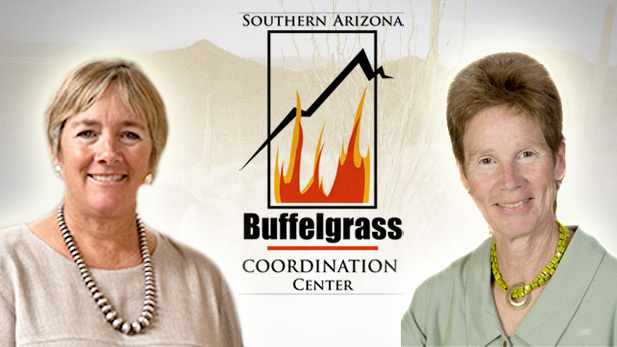 Sarah Smallhouse and Dr. Lindy Brigham of the SABCC
Find out about the mission of the Southern Arizona Buffelgrass Coordination Center, raising awareness about a threat to the Sonoran Desert way of life.
"Organizations don't get much leaner or meaner than us," says Southern Arizona Buffelgrass Coordination Center chair Sarah Smallhouse, and she may be right. The SABCC was formed following a forum on the buffelgrass situation that was held in 2008. Now, with two paid employees and a host of well-organized volunteers, including scientists and specialists from a number of fields, the Center has initiated a mapping system of the Tucson basin to help them further their end goal: the removal of buffelgrass from the entire Sonoran Desert region.
Sarah shares with us an idea that she learned from one of the co-founders of SABCC, United States Geological Survey scientist Julio Betancourt: "Science needs to become more active in people's lives. Without scientists who are willing to leave the laboratory to observe, understand, and relate the severity of an issue like buffelgrass, the average person has absolutely no chance at resolving it."

With that in mind, SABCC is forging ahead into new territory, and Sarah hopes that it could become a model to show the nation how scientists, volunteers, government, and the private sector can come together to face ecological problems. Groups that have so far been involved with project include local governments, communication companies. utility companies, biologists, botanists, and a massive volunteer force that goes into the field to physically remove buffelgrass. Sarah Smallhouse says this:
"We have coalesced in the last two years in a very noteworthy way. We should be proud of ourselves for that, but we should never allow ourselves to become complacent because we are nowhere near done with the massive project that lies ahead."