Tucson is one of a few test markets for the new Nissan Leaf, an electric car that's expected to be delivered to several communities in five states beginning at the end of this year. But while many people will be trying out an electric car for the first time supporters of this technology have been driving their own electric cars for years.
The Tucson Electric Vehicle Association (TEVA2) was formed about six years ago and members meet once a month to discuss what's happening in the electric vehicle world, talk about present or planned conversions, or address different technologies.
Members include Al Berry, a fleet mechanic for UPS who converted a 1996 Ford Escort into an electric vehicle that now makes up one of the cars that he drives for personal reasons. "It took about two to three weeks working evenings to do the conversion to all-electric and that was about June of 2008. So I've been driving it since and it's pretty good," he says. "Performance is good, distance is limited, I have about a 30 mile range so I can't go a lot of places and I could charge at work it would be great, I could drive to work daily but the barbecue shop nearby lets me charge but when it's raining that's not a good idea so we don't do that all the time."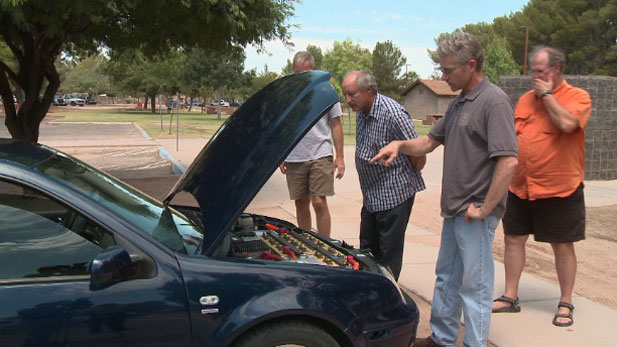 azpm
Darren Sims converted his 2001 Volkswagen Jetta to electric power
Like Al Berry, Darren Sims is a big fan of technology. Sims is an engineer who works at Tucson Electric Power and he decided to take on a conversion himself, as a personal challenge. After spending more than $20,000 he achieved his goal and now drives his vehicle all over town. "It's a 2001 Volkswagen Jetta, used to be a turbo-charged gasoline engine. I bought it with a blown motor, did the conversion myself, I put about $24,000 worth of equipment and batteries in it and it took about a year to get it done but I'm really happy with the results, " he says.
But what about all that money? Sims admits it's a sizable amount but he's okay with it.

"Yeah, I could have waited and bought a Nissan Leaf for the same amount of money but basically it was very rewarding to do this project. And I love to tinker and build things and that was the perfect avenue for that and I do believe in electric vehicles and that they can reduce our energy consumption because the automotive sector you know wastes so much energy that this would help offset that. Just a fun project to see if I could do it."
TEVA2 president Rush Dougherty says the future looks bright for vehicles like the Nissan Leaf after General Motors' EV1 was taken off the market in the 1990s despite positive feedback from many test users. "GM's EV1 was an incredible step into that future and then because of politics it got squashed, crushed, literally but now it seems like if a lot of the people that actually want to be green are doing something about it by getting hybrids or getting EVs," he says.
And with concerns like the recent oil spill in the Gulf of Mexico or the ongoing tensions in the Middle East, supporters say it's an idea whose time has come if we're seriously trying to reduce our dependence on fossil fuels.
Colleen Crowninshield is the director of the Clean Cities Coalition at Pima Association of Governments and she says the Tucson area is one of a few communities that has been chosen as a test market for the Nissan Leaf. One of the plans to try to make it successful is to provide the area with multiple chargers in various parts of the community where residents may park for a while and be able to charge their cars. Bookman's Entertainment Exchange on Grant Road in Tucson already has one. Owner Bob Oldfather is a big supporter of programs to help the environment, and he drove an EV1 in the 1990s. Now, he and others in our region are excited about the Nissan Leaf's arrival.
"It's significant for the United States. I mean most people are very familiar with the first EV1 project and I think the biggest mistake that the US made with that project is the infrastructure was not there to support the vehicle. This is the first time that we have looked at the egg and the chicken together. We are putting the infrastructure in the ground, when the car gets here it'll be able to charge, we're ready to go," says Colleen Crowninshield.
The chargers will be going in during the next few months and the Nissan Leaf is scheduled to arrive in Southern Arizona in December or early next year.
Bookman's Entertainment Exchange
Pima Association of Governments