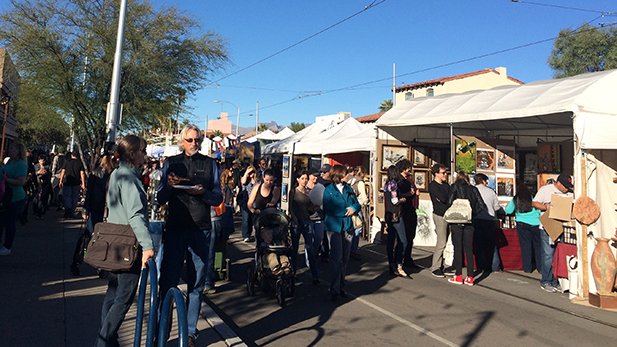 The Winter 2015 Fourth Avenue Street Fair.

Sophia Paliza-Carre, AZPM
The return of the annual Fourth Avenue Spring Street Fair will take over part of midtown Tucson once again.
Sections of Fourth Avenue and Fourth, Fifth and Seventh Streets will close at 1 p.m. on Thursday and remain shut down through Sunday.
The event will also cause the closure of the streetcar in the area. Passengers will have the option of boarding a bus to travel through the affected area.
The event brings an estimated 300,000 visitors to the shopping district over the course of three days.
This year's event will include 325 artisans, 40 food vendors and 30 performance groups.
"And at last calculation we had about 30 percent new artists that are coming in," said the Fourth Avenue Merchants Association's Fred Ronstadt. "We have the emerging artists booth near Pop Cycle. So we have four young artists who have never done a Street Fair before, they'll be trying it out for the first time."
The event opens at 10 a.m. each day and ends at dusk.
View a map of the area affected by the Winter Street Fair here: