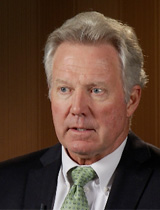 Michael Varney, president and CEO of the Tucson Metro Chamber. (PHOTO: AZPM Staff)
Michael Varney, predident and CEO of the Metropolitan Tucson Chamber of Commerce since 2011, will retire, he announced Thursday.
Varney will remain for a transition period to a new leader of the business advocacy organization, the chamber said in a press release.
He was hired in May 2011, coming from Las Vegas. In his time at the Tucson chamber, he has expanded the staff and services the agency offers to its 1,500 business members.