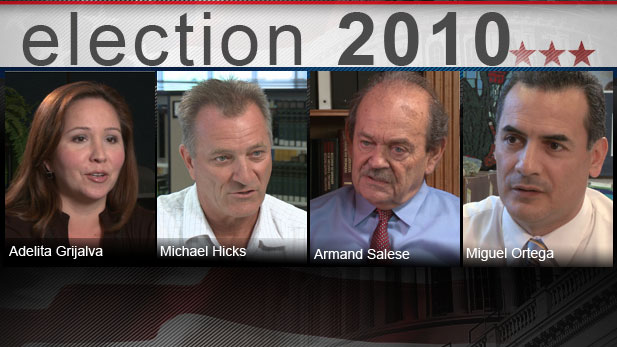 TUSD Board Candidates

azpm
Come November voters will decide how to fill two seats on the TUSD governing board. Four candidates have aspirations for the tucson unified school district governing board, and the top two vote getters will take their seats. Adelita Grijalva is the only incumbent, having served the district for eight years, and running for re-election. Her challengers include Armand Salese, a lawyer who has sued the district on two occasions over equity issues. Michael Hicks is the father of two TUSD students and manages intelligent transportation systems for the City of Tucson. And Miguel Ortega currently works in the office of council member Karen Ulich. We asked each candidate the same series of questions.
TUSD Candidates
azpm
What are your objectives in seeking this position?
Adelita Grijalva, who works in a juvenile diversion program, says she was motivated to run originally because she felt schools weren't doing enough to prevent students from getting into trouble. Now as a new mother her attention has shifted to early childhood education, and wants to address the deficit she sees in TUSD.
"Many parents that are looking for options outside of child care, they want pre-shool programs and we have great programs," says Grijalva. "These are programs that will provide your child a wonderful learning environment, playgrounds, hot lunches. We don't do enough to capitalize on that. So there are a lot of things I'd like to work on and that's going to be one of my biggest areas if re-elected."
Miguel Ortega wants to depoliticize the decision making process, and sums up his objectives in three words: advocacy, partnership and innovation.
"Advocating for young people is the most important thing, and we can't afford not to just discuss issues and day to day things," says Ortega. "We have to go out of our comfort zone, not just at a board meeting. We're using old antiquated language, not using the tools young people are using now. It's not about what we learned, or how much. It's how we become critical thinkers and how we use the tools of today."
Aamand Salese says his priority is to turn TUSD from a failing district into an achieving one.
"What I'm hoping to accomplish is to make TUSD a district where children will get a world class education, where when they graduate high school they can got o college, enroll at the Univesity of Arizona, and have taken all the required courses and passed them. If they choose not to go college and pursue a technicalcareer they can do that because they have all the basic skills to do it. That hasn't been done at this district," Salese says.
Michael Hicks claims he wants to remove barriers that prevent students from reaching their full potential.
"I believe it's the students, teachers, parents,staff, then administrators, period," says Hicks. "It's the way I'm looking at it. Its got to be about the students and what we're giving these students. I've been looking at twenty years from now. What type of students and society are we going to have? We're going to be the haves and the have nots. There's no in between."
How do you intend to improve the quality of students' education?
Grijalva:
"Many of the really strong initiatives that started we weren't able to get going as a result of cuts. One of the biggest areas that was cut was curriculum development. That whole departmente that is designed to help improve student achievement is not there to support our schools. So that's one area we need to change right away."
Ortega:
"At the end of the day we're going to do what works and we ned to look at other districts locally and nationally and steal good ideas and try them out, why not? If it works we need to try the other thing. We have to stop blaming teachers for everything. We don't do that with police. With them we find a few bad apples, but we never judge the entire force because of those bad apples"
Salese:
"If you don't master those subject areas you don't go forward, get promoted. No more social promotion, and you make the standards rigorous. The kids are capable of doing the work. It's a function of making themdo the work , have parents help them do the work and making the teachers teach classes in subjects they have to teach. And hold them accountable if they don't do It."
Hicks:
"I like the idea of small classrooms, and site based decision. making, Having parents, teachers, the whole family start making decisions for their schools and how to make them better and then learn from other schools. There's no reason not to take something that another school has found works and move it over to another area, and then try it."
What qualities are you looking for in the new superintendent?
Grijalva:
"I feel it's vital that we have someone that understands education that can communicate with educators that have been there and done that. Ideally a person who's been a teacher, principal, administrator, that would be an ideal candidate for me. Someone who's a great communicator and able to to look at our district and see it for all the positives that we have."
Ortega:
"We need a superintendent that understands and recognizes what he or she is getting into, and that's qualified and intends to stay and commit to our community. Tucsonans are tired of officials coming to our community , our city, sticking around for a year or two, packing their resumes and moving on. Tucson should not be a doormat. People are frustrated, infuriated at that."
Salese:
"You need a superintendent who's familiar with data driven information systems so that they can take that information, look at schools, principals , teachers, see which is effective and try to improve where they can. And if they can't improve performance, replace people. We have an enormous responsibility to these children and we're the adults and they're the kids. If we can't take kids who are in the first through sixth grades and have them all day, every day, and teach them, then whoever is doing that and responsible is in the wrong job. "
Hicks:
"Whoever the superintendent coming is coming into a hornet's nest . There's been years of neglect of staff and faculty. Faculty are at point where I have two to six years until retirement and that's all I'm working to. So we need to change their attitudes. That's years of neglect against staff and faculty."
How do you intend to improve the district's image and improve the relationship with the community?
Grijalva:
"The whole landscape has changed. We have to try as hard as we can to sell the programs that we offer and if it's not working for our community then we need to make some changes. That's one of the positive programs with First Choice is that each community is going through the process of what does our community want? Do we want art ,music, back to basics? And we're asking parents and making the appropriate changes so the community can see that this school is unique and this school works for me."
Ortega:
"We've got to be better ambassadors, creative in getting out the good word on TUSD and public education as a whole. I'll continue to do what I've been doing past year in promoting what works."
Salese:
"TUSD has to improve its performance. If schools are doing well and kids are being well educated parents know that. You can test it to find out. That's how you improve the reputation of the school. You improve the product that the school produces."
Hicks:
TUSD is supposed to be a partner in the community. In the past they were not a partner in the community. You had no choice. You had to send your kid to this school. Now they have choices, and they're showing they have choices by decreasing enrollment in the schools, going to charter schools. TUSD needs to take a different attitude and ask what is it we can give you the community, because it is a community."
Now the choice lies with voters. The top two vote getters in the November election will take their places on the governing board.