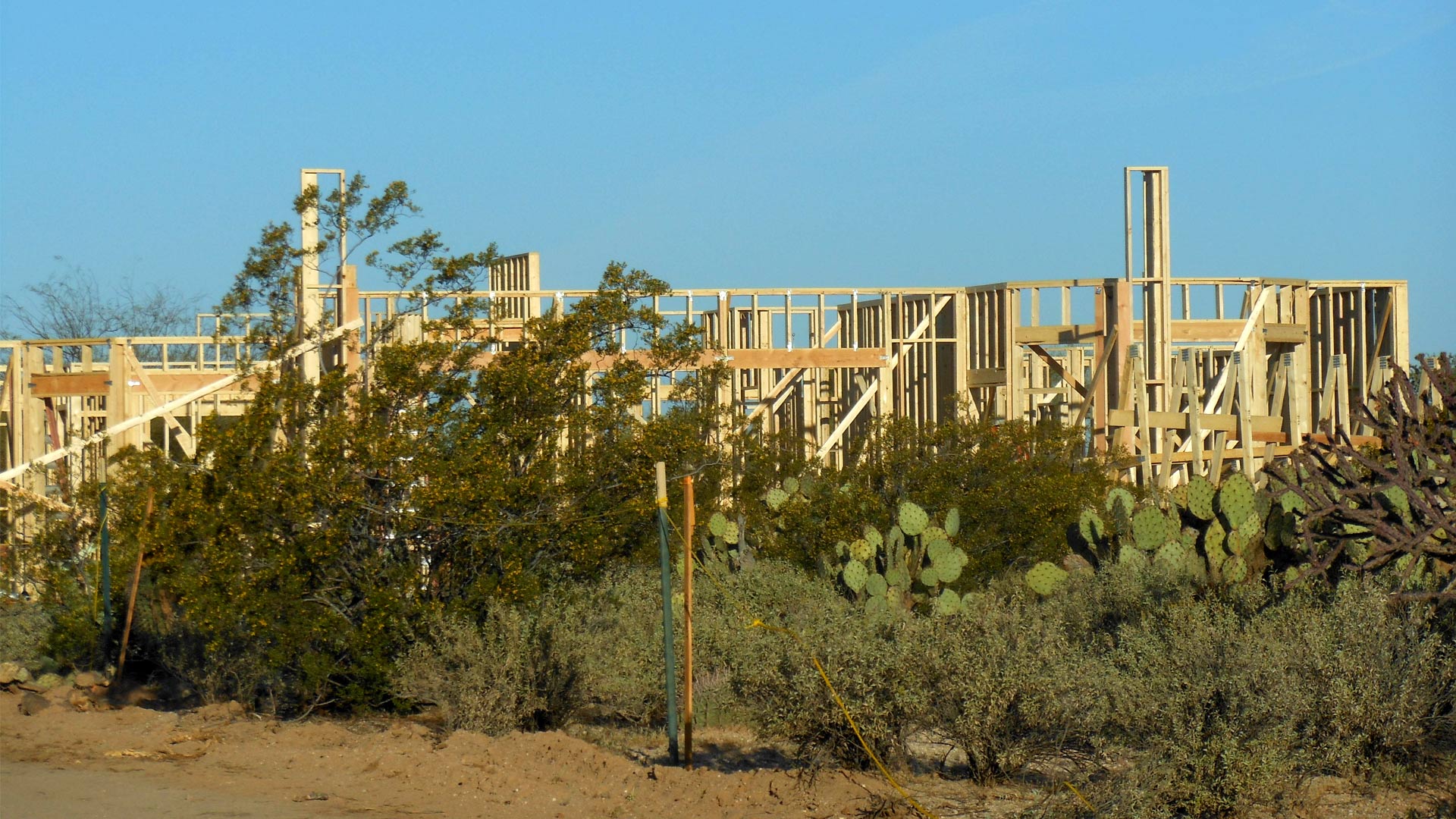 A new home being built on Tucson's Northwest side.
Colleen Greer, AZPM
It is a weekday morning, and crews are working on houses at the KB Homes site in the Gladden Farms neighborhood of Marana.
They are framing one house, roofing another and leveling the ground to pour the foundation for a third. The homes are all next to each other.
"We were the only builder out here until recently," said KB Homes Division President Amy McReynolds. "There's been a couple of other builders that have opened up, which tells you a little bit of the demand for the area."
Such scenes have not been common to the Tucson area since the housing bubble burst a decade ago. A lack of existing housing for sale may push some buyers into new homes. But a lack of skilled labor is keeping the pace of construction lower than some may like.
Now, four different homebuilders have signs posted along Tangerine Road, boasting new homes for sale and ongoing construction.
"There's going to be more demand than there is supply [of existing homes]," said McReynolds. "Which is going to push more of those resale buyers to new homes, and as they switch to new homes the permits are going to go up, which is going to cause a challenge for labor."
Some specialty fields in construction are starting to feel the labor pinch.
"We have heard of some shortages in certain subcontracting trades, but we haven't seen, I think, the challenges that some other markets have seen," said Southern Arizona Home Builders Alliance President David Godlewski.
The labor shortage is showing even though construction levels are down to almost a quarter of where they were a decade ago.
"During the peak, our region was doing over 10,000 single-family permits a year. Last year we were doing about 2,700 single-family permits a year," said Godlewski.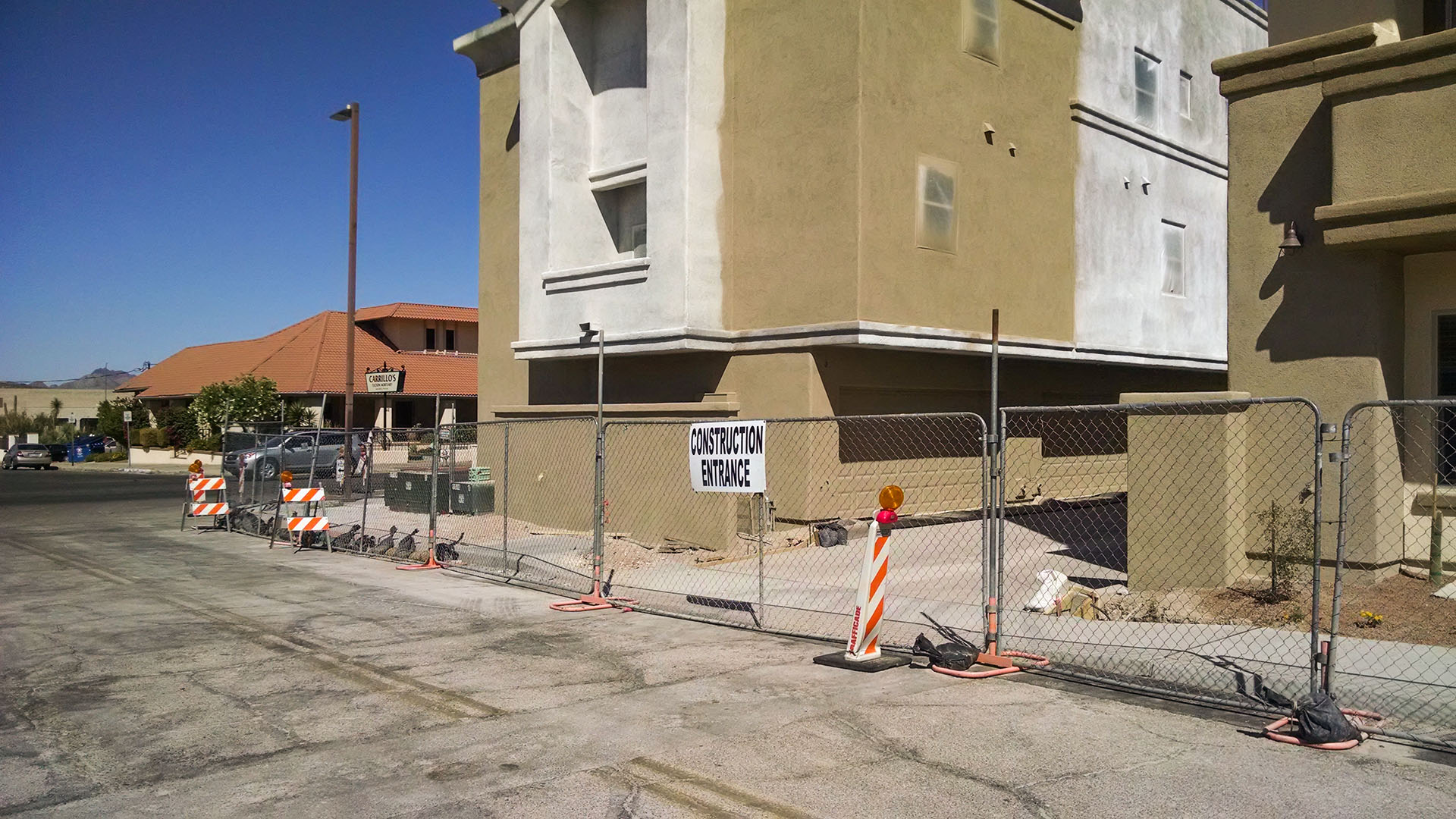 Construction near downtown Tucson.
Nick O'Gara, AZPM
Those who follow homebuilding think those workers have chosen one of two options.
The first option is that they retrained.
"Because there's been such a long period of low levels of homebuilding, a lot of the folks over in building homes say 10 years ago had move on to a different career," said National Association of Realtors economist Paul Bishop.
Another option is that they moved.
"When you had a lot of your construction labor leave the market because nothing was happening, right, and then your economy starts to improve, you're going to have some shortages, obviously, in your construction labor," said Tucson Realty and Trust's Hank Amos.
The workforce has not only shrunk. It has aged.
"The average age of a framer used to be 22. The average age of a framer now is 32," said KB's McReynolds.
That aging is due to a lack of young people entering the labor pool looking for work.
That can also cause a problem since many of the currently employed may soon age out of the work.
"And so it's really necessary to train a new generation of labor to do all the skilled work that's necessary to build homes," said NAR economist Bishop.
Homebuilders hope they can solve their labor woes in the long term through training youth.
Godlewski and McReynolds point to programs like Pima County's Job Corps Center and the Joint Technical Education District as ways the industry can ensure a future workforce.
"The average age of a framer used to be 22. The average age of a framer now is 32"
Migration could also be a solution.
Tucson Realty and Trust's Amos said workers can come back to Tucson just as easily as they left after the housing bubble burst and work dried up.
"You'll start seeing other areas the country maybe that are not doing so well or are cold. You'll start to see that migration come back, and we'll start to see that construction labor fill up," he said.
Executives at KB Homes hope the labor force will grow to meet demand because the company sees Tucson as a place it can grow long term.
"So right now KB [builds] about 20 [homes in Tucson] a month," said McReynolds. "We have large growth goals, and as we get to our third and fourth quarter, [multiply] that number by one and a half times or double that in the fourth quarter."

In order to reach that goal, the company will need plenty of people who want to build homes for a living.